What withdrawal? Obama wants $100 million prison in Afghanistan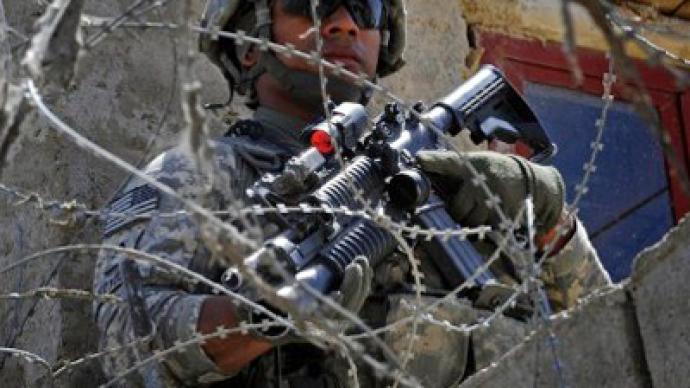 While President Obama insists that the US will save $1 trillion over the next decade by pulling out of the Afghan War, he has devoted little time to discuss his plans to build a new prison in Afghanistan — at a cost of $100 million.
Whether or not Obama wants to talk about it during his ongoing, indulgent pleas for Congress to pass his American Jobs Act, the US is looking towards spending upwards of $100 million on the construction of a prison in the city of Bagran, Afghanistan. A call-for-work posted on a federal government website last week revealed that the US is intending on erecting a facility which will feature accommodations for as many as 2,000 detainees with an estimated construction cost of $25,000,000 to $100,000,000.Posted on September 13 to FedBizOpps.gov, a solicitation for work from the US Army Corps of Engineer's Middle East District is asking area contractors to offer proposals for the construction of the facility, which will include guard towers, security surveillance, control gates and housing for around 2,000 prisoners. Regardless of Obama's instance that troop withdrawals are around the corner, the Human Rights First group recently wrote that the United States is "still imprisoning more than 2800 men outside the United States without charge or trial." Even if thousands of soldiers are expected to come back stateside in the months to come, it looks as though the footprint of the American military will live on in Afghanistan for years to come. Meanwhile back in America, the Supreme Court ruled this May that the state of California had to reduce its prison population by more than 30,000, claiming that conditions in jails within the Golden State were equivalent to cruel and unusual punishment. Perhaps the best solution is to export our inmates over to the Middle East? Coincidently, that is roughly the number of soldiers President Obama announced in June of this year that he would have out of Afghanistan during the next 12 months. Earlier this month the United States asked officials with the Taliban to open up an office in the nearby state of Qatar so that peace talks between the parties can begin soon. In the meantime, 66 American troops were killed in Afghanistan last month, marking it the bloodiest few works for US soldiers in the decade-long war.