Another Vietnam? American support for War in Afghanistan hits historic new low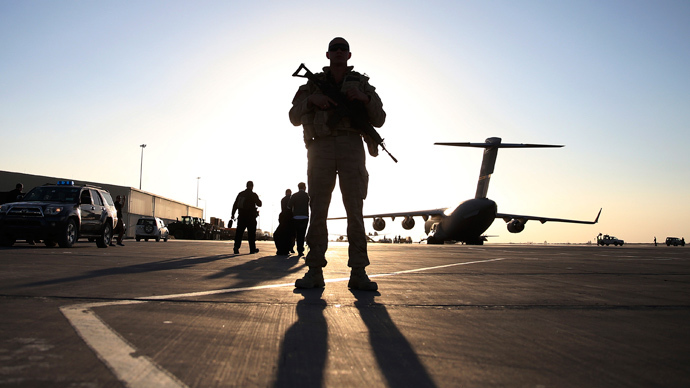 American support for the war in Afghanistan is shrinking to unprecedented levels, even sliding below the lowest points seen for the Iraq and Vietnam wars, a new study shows.
As the United States and Afghanistan negotiate an agreement to extend the presence of American and NATO troops into and beyond 2014, a new CNN/ORC International poll found that only 17 percent of Americans support the 12-year-old war.
The study found that about 82 percent of Americans polled disapprove of the ongoing US military operation in Afghanistan, a number that's up significantly compared to the 46 percent who opposed the conflict in 2008.
Fifty-seven percent said the war is going badly for the United States, while only one-third believe the US is winning.
"Those numbers show the war in Afghanistan with far less support than other conflicts," said polling director Keating Holland to CNN. "Opposition to the Iraq war never got higher than 69 percent in CNN polling while US troops were in that country, and while the Vietnam War was in progress, no more than six in 10 ever told Gallup's interviewers that war was a mistake."
According to the latest poll, a majority of Americans also support withdrawing all US troops before the December 2014 deadline that the US and Afghanistan are currently trying to extend. Meanwhile, just 25 percent think troops should remain in the country into 2015.
"Independents have a much gloomier view of the war in Afghanistan than Republicans or Democrats," Holland added to CNN. "That may be because a Republican president started the war and a Democratic president has continued it, so there may be some residual support among people who identify with either party."
Despite broad disapproval by the American public, the US is hoping to finalize a bilateral security agreement that would keep a contingent of up to 10,000 troops in Afghanistan beyond the end of 2014. Afghan President Hamid Karzai, however, has expressed concern over officially signing off on the deal, stating he'd prefer to wait until after the April 2014 elections before finalizing his country's commitment.
For its part, the US warned Karzai that if the agreement isn't concluded soon, it might ultimately decide to remove all military forces from Afghanistan by the end of 2014.
According to a recent report by the National Intelligence Estimate, US gains in Afghanistan are under significant threat, even if the country decides to leave behind a few thousand troops. Without a heavy American presence, the report predicts that much of the progress made by US/NATO troops will be eroded by 2017.
You can share this story on social media: