'Shame & embarrass govt': Soldier's campaign to overturn US visa refusal of Afghan hero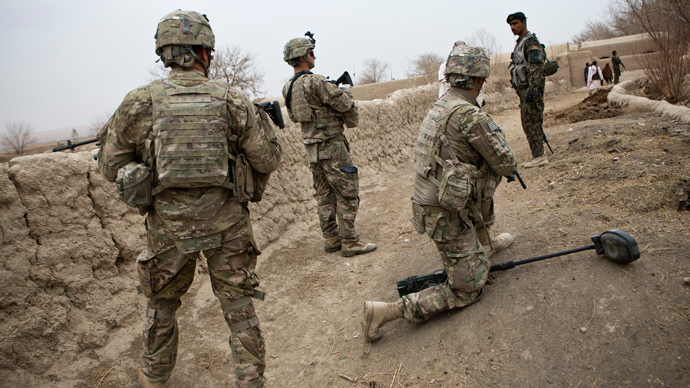 An interpreter who spent nine years helping US troops in Afghanistan was granted an American visa that was soon revoked seemingly without reason. Now, an American soldier has launched a crusade that aims to save the life of the man he called a brother.
In April 2008, Army First Lieutenant Matt Zeller was riding through Afghanistan's Ghazni Province when his three-Humvee convoy was ambushed by a number of Taliban fighters. At the time Ghazni was among the most dangerous places in the country and a series of explosions had left many of the troops dazed as enemy forces were encroaching.
Lost and confused, the Americans surrounded their vehicle when Zeller said he heard a burst of AK-47 fire and saw two Taliban fighters dead. It was clear to Zeller that had Janis Shinwari, an Afghan translator nearby, not shot and killed the two men Zeller would have been killed.
"It was literally the worst firefight of my life. I ran out of grenades. I was literally counting my bullets, and I remember thinking, we might not make it out of this one alive," Zeller told NPR. "Somebody yelled, 'Zeller!' and I turned and I saw Janis shoot a guy. There was a guy rushing up to me and Janis shot him, saving my life."
Afghan and Iraqi natives who helped US troops were often risking their lives to do so. Groups like the Taliban targeted interpreters and Afghan guards who they felt had betrayed Islam in helping American forces.
Attempting to mend the situation, congressional leaders – led by the now deceased Senator Ted Kennedy and over the objections of the Bush administration – passed a bill meant to grant Special Immigrant Visas (SIV) to foreign nationals who worked on behalf of the US government. But from the thousands who applied for SIVs, few were accepted because of widespread security fears surrounding those who often spent years embedded with US troops.
Shinwari spent years waiting for a visa that would allow him to move to the safety of the US. In an effort to help his friend, Zeller started a petition on Change.org that, with the help of over one hundred thousand signatures, persuaded the US State Department to issue the documentation.
Then, on September 21, the US embassy phoned Shinwari to tell him that his visa had been revoked and his application was back under review. He had already quit his job, prepared his family for the move and saw threats reading "Judgment Day is coming" written on his pickup truck, a clear warning from the Taliban.
"I became very angry," Shinwari told the New Yorker by phone this week. "I said, 'Why this happened to me?' I asked, 'Who sent a wrong email to the embassy?'"
A State Department official, speaking to Fox News, refused to comment on the specific case, but said the Department has "broad authority" to overturn an individual's visa.
"More broadly I would emphasize that every visa decision is a national security decision," he said. "Our visa procedures and processes are designed to address national security concerns at every stage of the visa application process."
When the government refused to disclose a reason, the two friends' suspicions quickly fell on the Taliban. Zeller wrote in a column for The Guardian describing his feeling that the likeliest cause is that "an anonymous 'informant' contacted the US government" to report "bogus claims" about Shinwari.
"It's fairly common for the Taliban to read the US news," Zeller wrote. "I can't help but think that they learned of our successful efforts to secure Janis his visa via the extensive coverage our efforts generated. They used to call our base in Afghanistan and claim all sorts of lies about our interpreters in an attempt to get us to fire them. The Taliban are almost certainly the source of the anonymous tip and now they have more time to hunt him and his family down and kill them."
Zeller went on to explain that, unfortunately, he thinks the only cause of action that could save Shinwari's life is to "shame and embarrass" the US government.
You can share this story on social media: