Aerial pesticide spray to fight West Nile causes fear in cities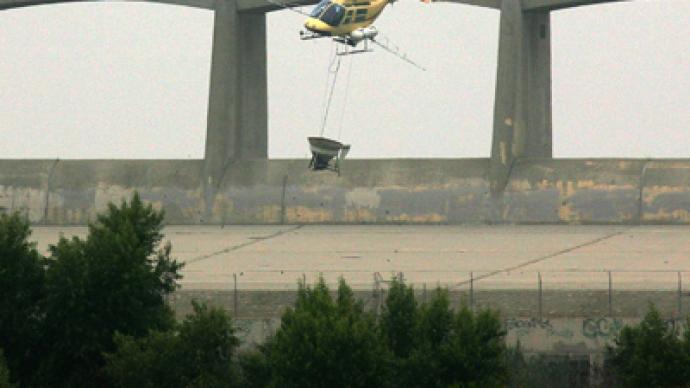 Several state and city governments across the US say that the aerial spraying of pesticides has decimated the threat of West Nile Virus in certain locales. Experts, on the other hand, say these efforts are exaggerated, fabricated and even impossible.
Despite claims in places such as Dallas, Texas and Boston, Massachusetts that the blasting pesticides onto the Earth from airplanes above is aiding the fight against West Nile, skeptics continue to scold these allegations."I don't believe those figures. Frankly, I don't think they're real," David Pimentel, an emeritus professor at Cornell University, tells Huffington Post. Pimentel was provided with official statistics from Massachusetts, Vermont and Texas that claim to show how aerial spraying has impacted West Nile amid what is one of the worst outbreaks the United States has ever seen. The US Centers for Disease Control attributes the virus to at least 118 deaths already this year, and attempts to eradicate the disease has escalated to spraying toxic chemicals from planes. But despite these efforts being credited with killing the mosquitos that carry the disease by as much as 93 percent — in Dallas, for example — Pimentel and others insist that that the information being made public isn't sincere. "I've done enough to know that it's not easy to kill those little devils. And measuring the kill of mosquitoes is not easy to do," he adds.The CDC has spotted more than 2,600 cases of West Nile so far this year, and expects that number to only climb. It's because of the increasing death toll that cities are spending great sums to spray entire towns with pesticides. In Dallas, Mayor Mike Rawlings explained, "I cannot have any more deaths on my conscience because we did not take action" when he ordered his city sprayed earlier this year in July, but the disease has still taken the lives of 57 Texans as of this week. While the impact this creates on human health remains up for debate, though, the actual effect the efforts have are also being argued.Kyla Bennett of New England Public Employees for Environmental Responsibility adds to Huffington Post that she is now considering taking legal action in Massachusetts after her requests to the Department of Public Health were rejected. She has been seeking information substantiating the claims that 60 percent of eastern equine encephalitis-carrying mosquitoes were eliminated after 500,000 acres of land were sprayed for pesticides in July. She has repeatedly asked for information to back up the state's arguments, but her requests remain unfulfilled."How hard could it be to search for that data? It should be at their fingertips if they issued this press release," pleads Bennet, who was once a federal staffer with the US Environmental Protection Agency. Similar bulletins have been circulated in Boston claiming that the mosquito population there dwindled by 60 percent after a series of sprays this past summer, with that statistic being as high as 69 percent in parts of Vermont after similar efforts. Until these governments come clean with an actual explanation, however, critics continue to challenge the validity of these claims."It is important to know how these numbers were generated," Beyond Pesticides Director Jay Feldman adds to HuffPo. "The burden is on the regulator to show that there is efficacy. The data that is available calls that into question."