Gun rights activist Adam Kokesh sentenced to probation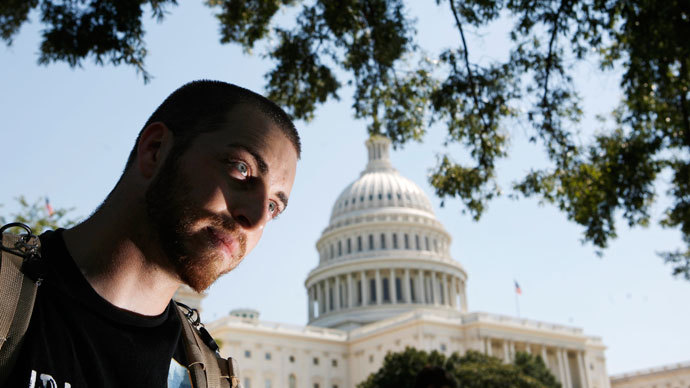 A District of Columbia Superior Court judge sentenced activist Adam Kokesh to two years of probation on Friday after he pleaded guilty to multiple firearm offenses related to an incident the occurred last July 4 just blocks away near the White House.
Kokesh, 31, was arrested last year after uploading a video to YouTube in which he's seen loading a shotgun in downtown Washington, DC's Freedom Plaza — just a stone's throw from the president's house — in defiance of the city's strict firearm laws.
"We will not be silent; we will not obey; we will not allow our government to destroy our humanity," Kokesh said in the 22 second-long clip. Police raided his residence in nearby Northern Virginia several days later and ultimately charged him with multiple counts as a result.
In November, Kokesh pleaded guilty to carrying a rifle or shotgun, possession of an unregistered firearm and unlawful possession of ammunition. Judge Patricia A. Broderick had the option of sentencing him to more than seven years in prison for those offenses, but ultimately elected on Friday to hand out only two years of probation and time served.
Additionally, Kokesh will have to register with DC as a gun offender.
Time served and probation! Just waiting for the paperwork now. Thank you all for your support. I couldn't have done it without you!

— Adam Kokesh (@adamkokesh) January 17, 2014
"There will be certain restrictions on my rights, and I'm going to be finding out exactly what those are and consulting a lawyer about that," he told reporter John Aaron from local network WTOP.
Prosecutors in the case had asked the court to hand out Kokesh a sentence of no less than 12 months, and said in a report given to Judge Broderick that the activist remains "unremorseful for his actions" and is at a "high risk for recidivism," according to the Washington Times. He has been arrested several times prior to the July incident, including after he openly smoked marijuana in front of the White House last year. He pleaded guilty in November to a charge related to that ordeal as well.
According to the Washington Post, Kokesh told the court on Friday that he "made an error in judgment" when he loaded a shotgun on camera in downtown DC and said he'd take responsibility.
"I protest because I believe it is everyone's right," he said. The Post reports that Kokesh offered to "refrain from civil disobedience" as well.
The District requires gun offenders to register with the city their name, address, photograph and fingerprints, which can then be shared with other local, state or federal government agencies. In DC, offenders must periodically appear before authorities to verify their status during the term of probation.
Kokesh was incarcerated for several months after being initially arrested, and at times refused to leave his cell to go before a judge. He was released in November after entering a guilty plea, and according to the Post he now plans to move to California.
You can share this story on social media: