Libertarian activist Adam Kokesh pleads guilty to gun and marijuana charges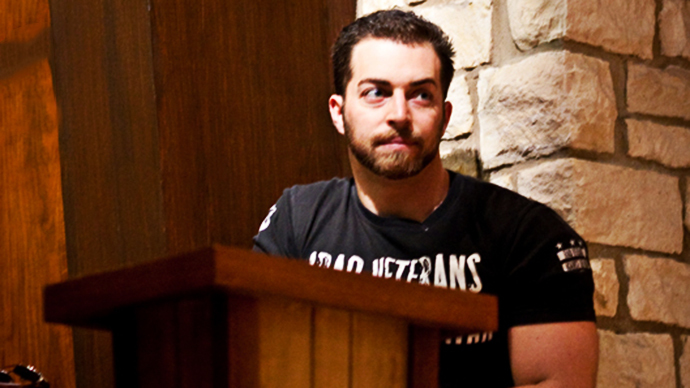 Gun-rights activist Adam Kokesh pleaded guilty to multiple charges in Washington, DC on Wednesday following nearly four months of pre-trial confinement that began after he uploaded a video of himself loading a shotgun a block from the White House.
Kokesh, 31, posted the video online this past July 4, defying DC law prohibiting the open carry of firearms within city limits and spawning a law enforcement investigation. When he was arrested days later inside his home in nearby Northern Virginia, authorities reportedly discovered hallucinogenic mushrooms and charged Kokesh with possession of a Schedule I narcotic while also in possession of a firearm. Later that month, he was transferred from a facility in Fairfax County, Virginia to one in DC, where he was charged with violating the capital's stringent firearm laws.

On Wednesday, Kokesh entered an impromptu guilty plea with regards to the charges filed in DC: carrying a rifle or shotgun, possession of an unregistered firearm and unlawful possession of ammunition. While before the judge, Kokesh also pleaded guilty to an unrelated marijuana possession charge filed before the Independence Day video was uploaded.
According to court documents available on the website for the District of Columbia Superior Court, Kokesh was released after pleading guilty on condition that he does not possess weapons of any kind and reports to authorities on a weekly basis. He is also prohibited from entering DC, except for legal appointments, and is scheduled to be sentenced for all crimes January 17. He faces a maximum of six years for all charges.

In court papers obtained first by the Washington Post,Assistant US Attorney Natalia Medina alleged that Kokesh had recently tried to sneak a cellphone into a DC jail while in custody. By agreeing to enter a plea deal on Wednesday, Medina said Kokesh would escape the possibility of being charged over the cellphone allegations.
"We evaluated the case against him and the likely outcome and made a judgment that this was the best thing to do,"Kokesh's attorney, Larry Copeland, told the Post. Copeland added that this was the second plea deal offered to his client since confinement began in mid-July.
"I'm incredibly grateful for everyone who supported me during my recent challenges by volunteering, donating, and writing letters to me in jail, and to the judge and the prosecutors," a message posted from Kokesh's Facebook account late Wednesday reads. "We will continue using this as a teachable moment to illuminate the nature of government and spread the message of liberty, self-ownership and civil rights."
US Attorney Ronald C. Machen added a statement of his own on Wednesday, saying Kokesh's plea demonstrates that "there are consequences for anyone who flagrantly abuses our city's firearms and drug laws."
The job of law enforcement is "hard enough without irresponsible people intentionally coming into the District of Columbia to brandish a loaded shotgun," added Machen.
During a jailhouse interview with a DC Fox affiliate in July, Kokesh said he was planning to run for president of the United States in 2020 "on the platform of orderly dissolution of the United States government."
You can share this story on social media: