Hollywood star sorry for outburst against 'illiterate' red state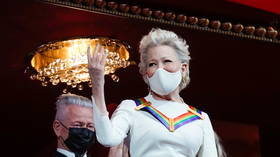 Actress and singer Bette Midler has apologized after causing outrage for describing West Virginia as "poor, illiterate, and strung out" in a political tirade against Senator Joe Manchin.
Midler is one of many liberal activists to blast West Virginia's Manchin since the Republican senator said he is refusing to support President Joe Biden's Build Back Better plan, making it nearly impossible for the massive spending package to pass the Senate any time soon.
Manchin, according to Midler, represents a "population smaller than Brooklyn," with the star then describing the Southern state as moving "backward."
"He sold us out. He wants us all to be just like his state, West Virginia. Poor, illiterate and strung out," Midler tweeted.
With a population of well over 2 million, the New York borough of Brooklyn has a population count higher than multiple US states.
Midler, no stranger to landing in hot water over political tweets, quickly issued an apology after numerous critics gave the 'Hocus Pocus' star a quick education on the red state she was belittling.
"I'm just seeing red," Midler wrote in an attempt to explain her "outburst."
She went on to call Manchin and his family a "criminal enterprise." In a later tweet, she also accused the senator of lacking a "conscience."
Critics accused Midler of "angry flailing" and playing directly into "out of touch" stereotypes about Hollywood celebrities expressing scorn for red states.
Manchin set off alarm bells with fellow Democrats after telling Fox News on Sunday that negotiations had broken down on Build Back Better. The White House and other Democrats blasted Manchin for his position, which he doubled down on in a later statement, blaming White House staff for driving him to his "wit's end" during the negotiations.
You can share this story on social media: