Anti-vaxxers have made me lose faith in the political right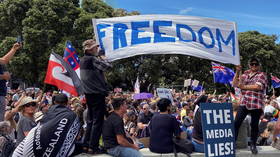 As someone who has generally identified as a conservative, I'm beginning to lose patience with right-wing politics. There are too many people behaving like they are members of a cult in opposing Covid vaccines.
Conspiratorial thinking has led to Covid-19 vaccines being politicised to a dangerous level which not only alienates people – like me – who value science and progression, but is costing lives. As the Omicron variant spreads across the world, it is more important than ever to push back against the hysteria against vaccines.
Very simply, there are too many conservatives lacking any sense of rationality when it comes to vaccines, as anti-vaxx disinformation continues to have too much influence over some commentators.
Marcus Lamb, founder and CEO of the Christian evangelical network Daystar Television, recently died from Covid-19 after advocating against vaccines. Sadly, similar tragedies have taken place over the past few months as other anti-vaxx activists and commentators have passed away after catching the virus, including radio hosts Bob Enyart, Phil Valentine, Marc Bernier, and Dick Farrel, and former CIA officer Robert David Steele.
These deaths came after conspiracy theories regarding the safety and efficacy of the vaccines spread like wildfire. For months, the Covid vaccines have been undermined by sceptics, and this narrative has been embraced by modern-day conservatism.
A good example is in America, where red states, with Republican governors, have witnessed the lowest rates of vaccinations and the highest rates of cases and deaths according to the Washington Post. Furthermore, a report by The Cleveland Clinic from May this year found that more than 99% of patients hospitalised with Covid-19 during the first four months of 2021 were not fully vaccinated.
This highlights how Red America, or Donald Trump's one-time voting bloc, has been vulnerable to dangerous disinformation about the vaccines.
Despite this, we have rarely seen prominent conservative voices criticising the anti-vaxxers or challenging them, as they are aware that this narrative enjoys strong support within their base. Instead, we see it embraced within sectors of the Republican Party.
The New York Times reported that such a sentiment is so deeply embedded within Republican bureaucracy that some lawmakers have invited anti-vaccination conspiracy theorists to testify in Congress and statehouses. Ultimately, this further fueled fears about the vaccine, as it provides authority bias.
It is not surprising, then, to understand why vaccine hesitancy is a dominant force within red states in the US and the populist right. And it appears this movement is only growing stronger, despite around 780,000 deaths in the US alone due to Covid.
The wave of opposition to vaccines is, of course, not confined to the US. In the UK, the movement has been amplified by powerful voices on both sides of the political divide – with one critic's hypocrisy being shamelessly exposed.
Piers Corbyn – brother of former Labour leader Jeremy, and certainly not a conservative – was filmed accepting a fake payment of £10,000 from pranksters who posed as AstraZeneca reps. The sting, which is available to watch online, showed Corbyn taking the money on condition that he would stop criticising the AstraZeneca vaccine and instead shift his focus on to other vaccines. Corbyn's lack of principles were laid bare, but sadly, the evidence was still not enough to change the minds of many anti-vaxxers.
Where once an anti-vaccine stance was an extreme view held be relatively few people, the onset of Covid has seen the idea gain traction, and today it is embraced by many across the world, particularly those on the right. This sends shivers down my spine, and should do the same to anyone who places value on logical thinking.
An entire group of people are collectively refusing to get a vaccine which is statistically proven to drastically reduce the risk of death and hospitalisation – and some are doing so simply to score political points, as anti-vaxx becomes a political identity.
Numerous statistics and pieces of data have shown that the Covid vaccines work and are very low-risk. Despite such overwhelming evidence, many conservatives seem happy to literally let their own base die by either spreading vaccine disinformation – or being too cowardly to challenge it.
Today we have tens of millions of shots administered globally, with the vaccines' safety and efficacy backed by the world's leading scientists. Mass vaccinations can play a key role on getting on top of the virus once and for all.
And yet, despite more than five million recorded deaths around the world due to Covid, the anti-vaxxers still seek to undermine public trust in the vaccines. On top of this, there are too many political leaders who show little care for public health and safety, and continue to use cherry-picked data to support their irrational rhetoric.
But that's hardly the oddest part; it seems that in order to 'own the libs' and to 'win the culture wars', there are some conservatives content to argue the inarguable, which, as we have seen, has tragic consequences.
As the new variant spreads across the globe, what is now most important is getting as many people vaccinated as possible. A vaccine will not just protect yourself, but it will protect your community from Covid. Conservatives would do well to remember this.
A serious political faction behaves responsibly during a time of crisis, not like hysterical fundamentalists. That is the difference between a successful political movement and a fanatical cult.
The statements, views and opinions expressed in this column are solely those of the author and do not necessarily represent those of RT.
You can share this story on social media: