Hollywood actor blames failure of his show on 'white supremacists'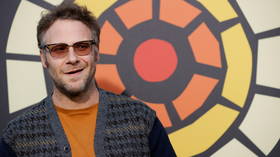 'Santa Inc.' star Seth Rogen is blaming "white supremacy" for the overwhelmingly negative public reaction to his new animated television series.
"We really pissed off tens of thousands of white supremacists with our new show," Rogen said in a Twitter post on Thursday, the same day the new series debuted on the HBO Max streaming service. The actor even pre-blamed the expected reaction to his assessment on bigotry, adding, "Please read the responses to this tweet for confirmation."
Critics pointed out that Rogen, who also is among the executive producers of 'Santa Inc.', might want to consider other possible reasons that the show has been poorly received. A trailer for the raunchy adult cartoon, which was released last week, was ratioed on Twitter and was given a thumbs-down by about 97% of viewers on YouTube.
"Or on the other hand, it's just really s**t," journalist Paul Joseph Watson tweeted on Friday. Another observer told Rogen, "There's no audience, bro. I'm not white and do not intend to protect anyone, but your show is not that good."
'Santa Inc.' features Santa Claus, voiced by Rogen, dropping F-bombs and a storyline born out of identity politics. Co-star Sarah Silverman voices a foul-mouthed elf who is angling to become the first female to take over the role of Santa. The current Santa is an elderly white and male chauvinist who urinates in public, and Mrs. Claus is depicted dancing on a candy cane stripper pole.
Commenters on Rotten Tomatoes, where 'Santa Inc.' was given an audience rating of just 3%, described the show as "vulgar," "mean-spirited," and "utter crap." One viewer said, "The last thing I need after a hard day of work is to come home and be told that I'm a bad person because as a child, I believed in a benevolent fairy tale about a fat man in a red suit. Hollywood is more about activism than entertainment these days. It's insufferable." Another called it "one of the worst things I've ever watched. It's like it was written by people who hate Christmas and those who celebrate it."
While much of the criticism of 'Santa Inc.' focused on the show's comedic failings and 'woke' script, some of the more vicious comments on social media were anti-Semitic. Others stopped short of spewing bigotry but argued that 'Santa Inc.' is an anti-Christmas slap in the face to Christians, produced by non-Christians. HBO Max turned off comments for the series trailer on YouTube.
Rogen waded into controversy again just one week after a Twitter spat with YouTube star Casey Neistat, who called Los Angeles a "crime-riddled Third World s**thole" after his cars were burglarized in the city. The actor scolded Neistat, saying he had lived in Los Angeles for 20 years and found it to be "lovely." But in his effort to defend the city, he admitted that his car had been burglarized 15 times. "Once a guy left a cool knife in my car, so if it keeps happening, you might get a little treat," Rogen said.
Blogger Jeremy Hambly, who goes by the Twitter handle 'TheQuartering', managed to weave the two rants together, reacting to Rogen's claim of white supremacy with the same language the actor used to defend Los Angeles.
Like this story? Share it with a friend!
You can share this story on social media: