Waukesha parade incident: Police confirm fatalities, 'person of interest' in custody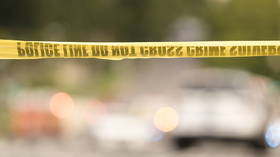 Police have confirmed that some people were killed after a car plowed through a Christmas parade in Waukesha, Wisconsin, adding that 12 children were taken to the hospital, and a person of interest is in custody.
Waukesha Police Chief Dan Thompson revealed that 11 adults and 12 children suffered injuries at the parade on Sunday afternoon, after a red SUV broke through police barriers and rammed into the crowd, as well as a marching band.
There have also been some fatalities resulting from the incident, Thompson said, without revealing the number of people killed, noting that police are in the process of notifying next of kin.
Thompson confirmed that a person of interest was taken into custody, without disclosing their identity.
The police chief reported earlier that officers located the suspect's vehicle. Photos shared on social media show police approaching a red SUV parked in a driveway. The hood was severely damaged, apparently from the collision.
He also revealed that the shots heard on some of the eyewitness footage taken at the parade were fired by an officer discharging his weapon to stop the car.
No one was injured by the gunfire, Thompson said.
It is so far unclear what prompted the driver to plow his vehicle through the crowd. NBC reported, citing investigators, that police have been looking into whether the driver was escaping another crime scene.
A local CBS News affiliate reported earlier that people living in the vicinity were urged to "shelter in place." Carroll University, which is located about 1.5 miles from the scene, was placed under lockdown.
In an update on Sunday evening, Thompson said the order to shelter in place had been lifted.
Think your friends would be interested? Share this story!
You can share this story on social media: