Dozens injured after car plows through Christmas parade in Wisconsin (VIDEO)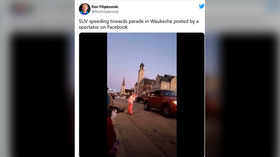 Multiple people were injured after an SUV rammed into the crowd at a parade in Waukesha, Wisconsin. There have also been reports of shots fired. Police have identified a person of interest in the investigation.
The incident took place during a Christmas parade on Sunday afternoon, which was livestreamed on Facebook.
The broadcast was cut off after it showed the car going full-speed towards the crowd. A graphic video shows the speeding SUV plowing head-on into a marching band, which appeared oblivious to the danger.
Another clip shows the vehicle knocking down police barricades, as shots ring out in the background. It's not clear if it was the driver of the red SUV or a police officer who opened fire.
Multiple police cars and ambulance crews were rushed to the scene.
Police located the vehicle shortly after the incident. Photos on social media show officers attending to a red SUV with a mangled hood. Waukesha Police Chief Dan Thompson revealed that a person of interest was found. The individual, whose identity has not been revealed, was taken into custody, Thompson said.
Waukesha County Executive Paul Farrow called the incident "an unspeakable tragedy," adding that "a vehicle drove through the parade route injuring many people."
Think your friends would be interested? Share this story!
You can share this story on social media: