Bolton predicts whether Trump will run in 2024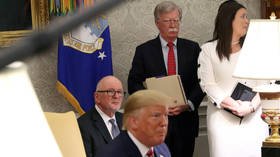 John Bolton, a former national security adviser to Donald Trump, has predicted that the former president won't run for office in 2024, instead preferring to act as the kingmaker among vying Republican candidates.
Speaking to Sky News on Monday, Bolton said he thought Trump would talk "incessantly" about running in 2024 but wouldn't do it.
"He's deeply afraid of losing again, he doesn't want to be remembered in history as a loser," Bolton claimed, adding that "when push comes to shove," Trump would rather attempt to play the role of the kingmaker. He noted that the former president would likely face "vigorous" competition in 2024 from within the Republican party.
"I think Trump is fading inevitably. When you leave the White House, the most powerful office in the world, and go to sit by the swimming pool at Mar a Lago, nobody should be surprised when your influence diminishes," he told Kay Burley.
The former security adviser added that Trump's attempt to re-litigate the 2020 election was not in the interest of the American people who want politicians to address the issues right in front of them. Responding to a question about the January 6 storming of the Capitol, Bolton noted there was an investigation into Trump's role in the deadly riot.
Bolton left the Trump administration in September 2019. He tweeted that he had offered his resignation on September 9, while Trump took to Twitter on September 10 to claim he told his security adviser he was "no longer needed."
If you like this story, share it with a friend!
You can share this story on social media: