Trump ally Bannon to be held in criminal contempt after defying subpoena order from Jan 6 House committee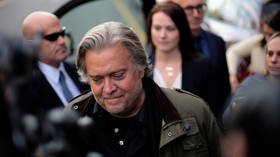 Former Trump official Steve Bannon will be held in criminal contempt of Congress, much to the glee of his critics, after refusing to comply with a subpoena order from the January 6 House committee.
Bannon's lawyer had previously announced that his client was not going to comply with the order, one of a handful sent to top Trump allies over the January 6 Capitol riot.
Committee Chairman Bennie Thompson (D-Mississippi) announced the pursuit of a criminal contempt charge on Thursday morning, adding that the committee denies Bannon's "vague" executive privilege defenses.
Also on rt.com
2020 election was 'bought by Zuckerberg', researcher claims, citing $420mn turnout-boosting work funded by Facebook CEO & allies
"Mr. Bannon has declined to cooperate with the Select Committee and is instead hiding behind the former president's insufficient, blanket, and vague statements regarding privileges he has purported to invoke. We reject his position entirely," Thompson said.
The committee will convene on Tuesday to discuss "adopting a contempt report."
"The Select Committee will use every tool at its disposal to get the information it seeks, and witnesses who try to stonewall the Select Committee will not succeed," Thompson declared.
An update was provided by a committee aide on others who have been subpoenaed and whose appearances have been delayed.
Bannon's attorney had reportedly explained in communication with the committee that his client is honoring Trump's "executive privilege."
"We must accept his direction and honor his invocation of executive privilege," he said.
Though Bannon's plans were clear from the start, that did not stop his critics on social media from gleefully celebrating the thought of the controversial conservative facing legal repercussions – he could face up to a year in prison and a $10,000 fine for a criminal contempt charge, though that is highly unlikely and any contempt charge will likely be used more as an incentive to cooperate.
Committee member Rep. Jamie Raskin (D-Maryland) promised that Bannon would face "the full force of the law for the smirking contempt he is showing Congress."
Trump has encouraged non-cooperation with the committee, which he has blasted as a partisan effort to keep January 6 in conversation. He has called on the committee multiple times to instead investigate the 2020 presidential election, which he continues to maintain was fraudulent.
If you like this story, share it with a friend!
You can share this story on social media: