'Single gunshot' report prompt lockdown at US Air Force base in Ohio, no threat found during sweep (VIDEO)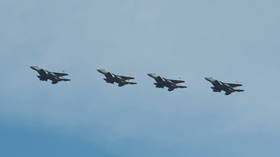 A suspected active shooter situation prompted a lockdown of the Wright-Patterson Air Force base located just east of Dayton, Ohio. No threat was discovered by service members, who swept the area.
"At approximately 9:25pm, emergency responders responded to a report of an active shooter in the National Air and Space Intelligence Center" at the airbase, the 88th Air Base Wing said in a tweet on Thursday night, adding that "security forces are currently sweeping the building" and "the base is on lockdown."
Footage circulating online purported to capture a loudspeaker at the base warning servicemen the facility was being placed on lockdown, with one local resident claiming she could hear the alert from her apartment nearby, also sharing a brief clip.
Hours later, the base announced the lockdown was lifted. Base Commander Colonel Patrick Miller told the media that the emergency was called after two people reported hearing a single gunshot. No threat was identified during the sweep and no injuries were reported.
The colonel acknowledged that the sound may have not come from a firearm discharge, but refrained from speculating further, saying an investigation will be conducted into the circumstances. He complemented the response of the people under his command for contributing to the "successful event."
The situation also reportedly triggered a response from civilian authorities, with local police sending a cruiser toward Wright-Patterson, according to a journalist present at the scene. The same reporter, Sean Cudahy of a local CBS affiliate, noted that vehicles did not appear to be entering or leaving the facility, with some seen parked at its gates.
Wright State University, located less than three miles from the air base, also put out an alert on social media, urging students and staff to "stay clear" of certain areas on campus.
The National Air and Space Intelligence Center (NASIC) based at Wright-Patterson is the Pentagon's "primary source for foreign air and space threat analysis," according to an official DoD website. The base is commanded by Colonel Patrick G. Miller, and its host unit – the 88th Air Base Wing – operates and maintains the facility, also training expeditionary airmen for combat missions.
Think your friends would be interested? Share this story!
You can share this story on social media: