Chicago pharmacist busted selling stolen CDC vaccine cards online, faces up to 120 YEARS in prison – DOJ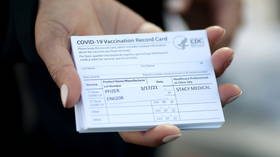 A Chicago-based pharmacist has been arrested after allegedly selling more than 100 official Covid vaccination cards on eBay after obtaining them from the CDC. He was slapped with 12 federal counts for theft of government property.
A man identified as Tangtang Zhao was arrested and charged for the vaccine card scheme on Tuesday, the Justice Department said, accusing the 34-year-old pharmacist of snatching official CDC documents from his place of work and hawking them off on the internet for around $10 each.
"Knowingly selling Covid vaccination cards to unvaccinated individuals puts millions of Americans at risk of serious injury or death," said special agent Emmerson Buie Jr. of the FBI's Chicago Field Office.
To put such a small price on the safety of our nation is not only an insult to those who are doing their part in the fight to stop Covid-19, but a federal crime with serious consequences.
Zhao allegedly made a little over $1,200 on the purloined vaccine cards, according to a criminal complaint against him. He was said to have worked for a "vaccine distributing entity" that administered jabs to the public, which are required by the CDC to hand out cards to recipients documenting their vaccination. Zhao is accused of stealing at least 125 blank cards and later selling them on eBay, apparently to allow buyers to present themselves as immunized.
Charged with 12 counts of theft of government property, a federal offense, Zhao faces up to 120 years behind bars if convicted, with each charge carrying a maximum penalty of 10 years. His first court hearing was held on Tuesday.
Also on rt.com
'No Nazi pass!': New Yorkers gather outside city hall to protest mayor's Covid-19 vaccine-cert order (VIDEOS)
The Chicago pharmacist is not the first to land in legal trouble over vaccine cards, with a doctor in California arrested last month for selling falsified vaccination documents, as well as "homeoprophylaxis immunization pellets" she claimed would provide protection against Covid-19. Last Sunday, meanwhile, two Hawaii men, a father and son, were booked after attempting to use phony vaccine cards to avoid the state's mandatory quarantine period.
The incidents come as New York City prepares to roll out one of the nation's first full-on vaccine passports, with other locales, such as Los Angeles, considering whether to follow suit. Much like similar schemes unveiled across Europe, NYC's pass system will require residents to prove they were vaccinated using a phone app before entering most indoor entertainment venues, as well as bars, restaurants and gyms. Those plans have proven controversial in the US and beyond, however, prompting a spate of major protests in recent weeks.
Also on rt.com
Emmanuel Macron's Covid 'health pass' tyranny reveals the true extremism of globalist faux-centrism
Think your friends would be interested? Share this story!
You can share this story on social media: