17 injured, including LAPD cops and ATF agent, in botched disposal of 5,000 pounds of confiscated fireworks (VIDEO)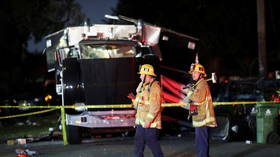 At least 17 people were injured in Los Angeles on Wednesday after an attempt to safely detonate an enormous stockpile of confiscated fireworks caused an uncontrolled explosion that tore through the neighborhood.
The explosion occurred during a botched disposal operation, after police confiscated more than 5,000 pounds (2,3000 kilos) of hand-made fireworks earlier in the afternoon. The stockpile was loaded into a bomb squad vehicle when it detonated.
Los Angeles Police Chief Michael Moore told reporters that at least 17 people were injured, including nine police officers and an agent from the Bureau of Alcohol, Tobacco, Firearms and Explosives.
Local media outlets and at least one bystander captured the incident on video, showing an armored box containing the fireworks as it erupted, destroying both the container and the flatbed truck that was carrying it. The blast damaged buildings and several cars that were parked nearby.
Moore said police detonated the fireworks believing that the box would be able to contain the explosion, but there was a "total catastrophic failure of that containment vehicle." Moore added that officers followed all necessary protocols and he does not know at the moment why the detonation went the way it did.
The fireworks were seized from a 27-year-old man accused of bringing the explosives in from out of state to resell for the Independence Day weekend. The suspect faces charges of possession of a destructive device, and he may face additional charges for child endangerment because his 10-year-old brother lives with him, Moore said, as quoted by local media.
Think your friends would be interested? Share this story!
You can share this story on social media: