House Speaker Pelosi proposes diplomatic BOYCOTT of China's 2022 Winter Olympics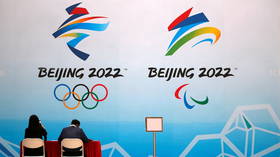 Democrat Nancy Pelosi has warned official US delegations could be barred from appearing at Beijing's upcoming Olympic Games – supposedly, if the Chinese government doesn't make the proper "human rights" concessions.
US senators on Tuesday waxed poetic about the need to keep Beijing in line, insisting on their very real concern about the plight of incarcerated Uighur Muslims – despite the incomparable numbers of prisoners confined in the US, which boasts not only a larger prison population than any other country in the world but also a larger prison population per capita.
Pelosi insisted the latest measure was "more about actions than words," calling China's actions in Xinjiang "a genocide recognized as a genocide" – fighting words, seemingly designed to force China to act to save face.
Also on rt.com
Vaccinated Democrats in Congress refuse to drop masks as CDC director questioned on whether mandate reversal politically motivated
Immediately going for the brass ring of chutzpah, Pelosi attempted to compare the Nazi Party to China in 2021, quoting Adolf Hitler's sardonic observation that, decades later, no one "remembered the Armenians" after their genocide.
A genocide recognized as a genocide should be enough for us to change our actions.
The House speaker continued her rapt description of how China had apparently set off Washington-made genocide detectors, though never quite explaining exactly how the situation with Beijing had deteriorated to this apparently desirable level.
Also on rt.com
Democrats move to establish commission on Capitol riot as Republicans start pushing back on official narrative
She also sneered that she'd "kind of lost her innocence on hoping corporate America or the powers that be following through and expecting people to behave in a way that's consistent with their words when it comes to major companies and other large firms respecting human life," a sneer that could be just as easily applied applied to the two-faced corporations doing business in her own government as it could to China – indeed, several instances last year saw US companies land in hot water for picking China over Washington, where they cashed their checks. At least Pelosi's co-host on the call did not try to exclude American companies from this level of failure, though.
"It's about more than words, it's about actions," Pelosi continued.
We cannot proceed as if nothing is wrong about the Olympics going to China.
Add Nancy Pelosi to the list of lawmakers calling for a diplomatic boycott of the 2022 Winter Olympics in Beijing, citing China's human rights abuses."We cannot proceed as if nothing is wrong about the Olympics going to China," Pelosi says at a joint hearing.

— Tom Schad (@Tom_Schad) May 18, 2021
Nancy Pelosi says "we cannot continue to give Beijing a blank check" in hope of its inevitable political reform, during a House hearing on human rights in China https://t.co/i7bcMZclvx

— Ishaan Tharoor (@ishaantharoor) May 18, 2021
Think your friends would be interested? Share this story!
You can share this story on social media: