Oscar slammed after Anthony Hopkins wins Best Actor over late star Chadwick Boseman in ceremony rearranged to make it final award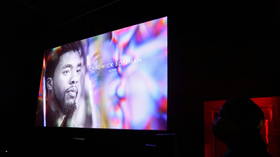 Fans of the late actor Chadvick Boseman tweeted their fury at the Oscars after the 'Black Panther' star failed to win the Best Actor award. The show conspicuously changed the running order, making it the final category.
The victory of Anthony Hopkins in a hugely anticipated Best Actor category, which was moved by the organizers to cap off the show, rattled some feathers with incensed Boseman fans. They accused the organizers of "disrespecting" the legacy of the late star, who died of cancer in August last year.
Boseman was considered a slight favorite to win the trophy for his performance in 'Ma Rainey's Black Bottom' and "just edge out Anthony Hopkins," as Variety put it, who was nominated for his role as an Alzheimer's-stricken man in 'The Father'.
Fans' hopes that this would be the case received a boost when the Oscars changed the traditional running order of award presentations, which usually ends with Best Picture rather than Best Actor, without much explanation.
"The Oscars were so sure that Chadwick Boseman was going to win that they REARRANGED THE ENTIRE CEREMONY so his category could be last, and then they gave the award to Anthony Hopkins instead… the most chaotic and unhinged thing I've ever seen," BuzzFeed's deputy editorial director Spencer Althouse tweeted.
Film Critic Dan Murrell echoed the sentiment, saying the producers of the ceremony had made "a huge mistake" by seemingly building the show around the nomination.
Branding this year's Oscars "a total chaos," film managing editor Jacob Hall pointed out that Hopkins, the oldest-ever actor to ever win an Oscar at 83, was not even there to receive the award.
In addition to Boseman's fans, the show drew the ire of those who believed 'Nomadland', which was crowned Best Picture, was robbed of the spotlight, because it was not made the final award. Chloe Zhao, who directed the drama, became the first Asian woman to win best director at the ceremony.
"The Academy of Motion Picture Arts & Sciences: Disrespecting Nomadland So We Can Also Disrespect Chadwick Boseman," an angry movie fan wrote in summing up the situation.
Some, however, found a silver lining in the Oscars' debacle, arguing that the apparent misfire by producers might actually mean that there were no leaks about the outcome of the vote this time around.
If you like this story, share it with a friend!
You can share this story on social media: