Feminist author condemned as 'anti-woman' after claiming stay-at-home mothers are bad examples for children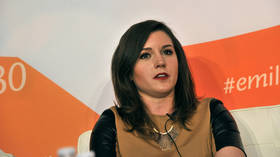 Author and lawyer Jill Filipovic came under fire online after she seemed to imply that stay-at-home mothers were setting a bad example for their children by not working.
In response to a story published by Slate, featuring a letter from a man who didn't want his wife to become a stay-at-home mother, Filipovic published a long series of Twitter posts supporting the position.
"I would have a really, really hard time being married to a spouse who chose not to work," she wrote, before asking, "What example are you setting when dad works for pay and mom does the care work at home? Lots of reasons not to want to set that example for a child."
Filipovic soon faced a barrage of criticism, including from stay-at-home mothers, who accused the journalist of being "awful,""anti-woman," and anti-feminist.
"So it's only okay to take care of kids if someone pays you for it?" questioned one user, while another commented, "My wife values time with the kids more than money or a career. I work to provide that. Why do we need to continue to pretend that people get more fulfillment from life if they make lots of money?"
Former Fox News and NBC News host Megyn Kelly called Filipovic's remarks "idiotic" and "disgustingly judgmental," adding, "This sanctimonious guilt trip is sexist bulls**t whether from a man or woman. Ladies, don't listen to this moron."
"Yes, clearly the best example you can set for your child is to send them to daycare while disparaging moms who stay home with their kids," mocked conservative commentator Ben Shapiro.
Filipovic, who frequently writes about women's rights issues, has previously called the "choice to be child-free" an "admirable" act for women with "self-knowledge and maturity," and called on women to stand up against social pressure.
Like this story? Share it with a friend!