Senator Cruz's tweet about watching Disney's 'Fantasia' as a child results in Seth Rogen calling him 'FASCIST piece of S**T'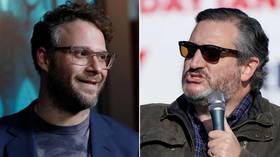 Senator Ted Cruz (R-Texas) and actor Seth Rogen came to verbal blows on Twitter, with the former getting himself in hot water for calling the 'Superbad' star a "Marxist with Tourettes."
It all began with a simple tweet from Cruz, who shared an early childhood memory of watching Disney's 'Fantasia.'
Responding to a tweet from MGM Studios asking people what their first movie was, Cruz shared a non-political tweet that set off Rogan, an outspoken liberal who has criticized the senator before.
"Fantasia. It was playing at a film revival. It scared me; I cried—I was 4. My Mom had to take me out. Good times," Cruz wrote in response to MGM's tweet.
The Republican's admission to liking a movie as a child was apparently too much for Rogen to handle, and he simply had to respond.
"Everyone who made that film would hate you," Rogen replied.
Cruz pushed back against Rogen with both an insult and a compliment.
"They're all dead. So I think we're good. And Walt Disney was a Republican," he said. "Even though you behave online like a Marxist with Tourette's (screaming 'F U! F U!' is really, really clever), your movies are typically pretty funny. I'm sure you hate that I enjoy them."
In separate tweets, Rogen slammed Cruz as a "fascist piece of s**t." The senator shot back, labeling the actor a "moron" and noting the bias in Hollywood against conservative artists that has been brought up for years by right-leaning filmmakers.
It was Cruz's reference to Tourette's syndrome that drew him the most attention though, with some accusing the Republican of exploiting the condition for an insult – including Rogen, who appeared to suggest he has his own experience with Tourette's.
Like this story? Share it with a friend!
You can share this story on social media: