'You can always go Downtown': Social media looks for hidden meaning as police say Nashville RV played 1960s pop hit before bombing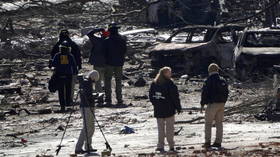 Before it exploded and laid waste to a street in downtown Nashville, Tennessee, an RV played a peculiar choice of song: Petula Clark's 1965 hit, 'Downtown'. Amateur sleuths on Twitter pondered why it had been chosen.
Police in Nashville said on Sunday that, shortly before it exploded next to an AT&T building, an RV parked in the city's downtown played an audio message over a loudspeaker: a recording of 'Downtown' by British singer Petula Clark.
Was there a deeper meaning to the message? Commenters on Twitter spun theories, suggesting that the bomber may have wanted to lend his deed a cinematic atmosphere, that he might have been a 'Seinfeld' or 'Lost' fan, or that he simply wanted to play a favorite song from his youth, among other, more outlandish, theories.
The song wasn't the only recording the RV blared before exploding. CCTV footage caught a female-voiced evacuation warning playing from the vehicle, and police said a countdown timer was heard leading up to the blast.
FBI agents named 63-year-old Anthony Quinn Warner as a "person of interest" on Saturday, and raided his house in Antioch, Tennessee. Agents with the FBI and the Bureau of Alcohol, Tobacco, Firearms and Explosives have reportedly been asking locals whether Warner could have been motivated by "paranoia about 5G technology," hence his choice of target.
Also on rt.com
'Playing a similar audio': ANOTHER suspicious truck searched by Tennessee deputies with bomb robot in wake of Nashville RV blast
Media reports have claimed that the bomber died in the explosion, after Metro Nashville Police Department Chief John Drake said on Friday that possible human remains were found near the blast site. This has not yet been confirmed, however.
Think your friends would be interested? Share this story!
You can share this story on social media: