White House Covid-19 task force's Dr. Birx announces retirement after backlash over Thanksgiving travel that violated CDC advice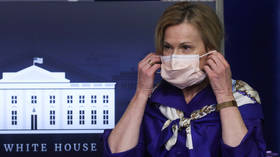 Dr. Deborah Birx has announced she will be retiring in the near future due to the "overwhelming" backlash she and her family have received after it was revealed they broke with Covid-19 recommendations and traveled out of state.
Birx, who is on the Coronavirus White House task force and has served as the Global AIDS Coordinator for President Obama and President Trump since 2014, said she will be "helpful" to the incoming Biden administration and hopes it's "successful," but she will retire soon after.
"I will be helpful in any role that people think I can be helpful in and then I will retire," she told Newsy.
Also on rt.com
Dr. Deborah Birx, who's seeking role on Biden's Covid-19 team, violates her own guidelines with Thanksgiving family trip
Birx cited backlash against her and her family in the last week over the revelation on Sunday that three different generations of her family gathered at a vacation property in Delaware the day after Thanksgiving as the reason for her leaving public service.
The experience, she said, has been "a bit overwhelming" and "difficult" on her family.
"My daughter hasn't left that house in 10 months, my parents have been isolated for 10 months. They've become deeply depressed as I'm sure many elderly have as they've not been able to see their sons, their granddaughters," she said.
The Centers for Disease Control and Prevention (CDC) has advised US citizens against traveling over the holidays and gathering with different households at indoor events due to the pandemic. Birx's trip has led to a wave of criticism, and she is only the latest public official to get caught breaking their own recommendations.
Birx defended her trip, saying only "immediate family" was there - though still from different households - and said she was not celebrating Thanksgiving, but rather preparing a property for a potential sale.
Her retirement announcement has done little to quell controversy with social media users continuing to slam the infectious disease expert for breaking her own guidelines while many remain under strict lockdown restrictions in various states.
Like this story? Share it with a friend!