Stephen Colbert lauded after scolding Trump for doubting 'sacred' elections & called out for doing same when peddling Russiagate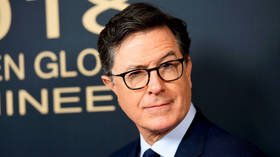 Host Stephen Colbert was almost universally praised by Donald Trump's critics for an emotional monologue on the 2020 election. However, the heartfelt speech failed to impress many cynics on both sides of the US political divide.
Colbert blasted Trump during 'The Late Show' on Thursday for claiming that there were fraudulent votes cast for his opponent Democrat Joe Biden in the ongoing election. "For him to cast a dark shadow on our most sacred right from the briefing room in the White House — our house, not his — that is devastating," he said after apparently tearing up a bit.
The segment seemed to utterly wow anti-Trumpers, with many of them marveling online at how "powerful" the monologue was and calling Colbert the "moral compass" of America.
However, even among Colbert's liberal viewers there were those who saw the 2020 election, currently tipping in Biden's favor after initially starting with a Trump lead in several states, not as a symbolic rebuke of 'Trumpism', but as an indictment against US voters for allowing it to be unexpectedly close. The host posited that Americans are going to "count who was willing to speak out against Donald Trump."
"You give too much credit to Americans," one commenter retorted. "Americans just proved that almost half of them are OK with Trump."
Disenchanted Trump critics were not the only ones to take issue with Colbert's very dramatic presentation. Many were eager to accuse him of being a hypocrite, as he was chastising Trump for doubting America's "sacred" elections after peddling the evidence-free Russiagate conspiracy theory for years, implying that it was Moscow, not the US voters, who got the president into the White House in 2016.
The most cynical viewers outright rejected Colbert's premise of Trump being the first person to undermine US democracy, saying it had been a "farce" for some time now, both at home and abroad, as America doesn't shy away from influencing other nations' political processes.
Some commenters simply thought Colbert's emotional monologue was insincere and that he was merely acting, saying they were just "crocodile tears."
Also on rt.com
Media count declares Joe Biden winner, as Trump refuses to concede: RT covers US presidential election
Think your friends would be interested? Share this story!
You can share this story on social media: