Lindsey Graham wins re-election to Senate despite record-breaking fundraising by Democratic challenger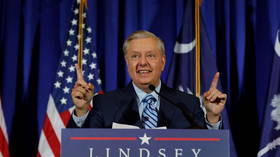 Republican US Senator Lindsey Graham has fended off a fierce push by Democrats to unseat him, winning re-election after warning that he was being "killed financially" by challenger Jaime Harrison's fund-raising.
With 53 percent of precincts having reported results in South Carolina, Graham was leading Harrison by nearly 13 percentage points, at 55.8-42.9 percent. Pollsters had considered the contest a tight race as the battle over confirmation of US Supreme Court Justice Amy Coney Barrett boosted Democrat fund-raising.
Sen. Lindsey Graham (R-SC) on FOX just now: "My opponent will raise $100 million ... I'm being killed financially. This money is 'cuz hate my guts." pic.twitter.com/hqMIqpdUoe

— The Recount (@therecount) September 24, 2020
Graham said in a September Fox News interview that Harrison was on track to spend nearly $100 million on the race. The previous record for any South Carolina Senate election was the $13 million that Graham spent in 2014. "I'm being killed financially," he said. "This money is because they hate my guts."
Graham won his fourth term in the Senate after playing a pivotal role in the confirmation of another Supreme Court justice, Brett Kavanaugh. He pivoted from being a critic of then-presidential candidate Donald Trump in 2016, after making a failed bid for the Republican nomination himself, to becoming one of his strongest allies in the Senate.
Also on rt.com
'Who would ever vote for him?' Never-Trumpers & Dems cheer after Fox host Lou Dobbs rips Sen. Lindsey Graham for Trump 'betrayal'
Think your friends would be interested? Share this story!
You can share this story on social media: