Trump was given oxygen 'for about one hour', but could be discharged from hospital as early as Monday, president's physician says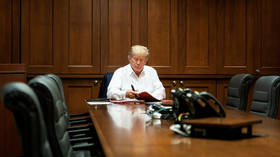 President Donald Trump's medical condition has continued to improve as he recovers from an illness brought on by a Covid-19 infection, and he may be well enough to be released from the hospital Monday, according to his doctors.
"If he continues to look and feel as well as he does today, our hope is that we can plan for a discharge as early as tomorrow to the White House to continue his treatment course," Dr. Brian Garibaldi, one of the physicians treating Trump, told reporters Sunday.
Also on rt.com
Trump briefly LEAVES hospital in slow drive past crowd of cheering supporters outside Walter Reed (VIDEOS)
Trump had only mild symptoms of illness when evaluated Thursday night and Friday morning, but by late morning on Friday, he had a high fever and the oxygen saturation rate in his blood had dropped below 94 percent, Dr. Sean Conley said. He was taken to Walter Reed National Military Medical Center on Friday, and given concern over the suddenness of his symptoms worsening, he was given supplementary oxygen for about one hour, the doctor added.
By later Friday, Trump's oxygen level was back up over 95 percent, and he was up out of bed and moving about, Conley said. He has remained without fever since Friday night, and he has been walking around without breathing difficulties.
Trump tolerated his second dose of Remdesivir on Friday night, without complications, Garibaldi said. In response to "transient low oxygen levels," he was also given Dexamethasone, an anti-inflammatory steroid.
Also on rt.com
Trump remains 'fever-free & off supplemental oxygen' but 'not yet out of the woods' – White House physician
White House Chief of Staff Mark Meadows created confusion Saturday over Trump's condition when he said the president's vital signs were "very concerning" over the past day, which seemed to contradict a favorable medical update by his doctors. Conley said Meadows was speaking of the episode Friday when Trump's temperature rose and his oxygen level dropped, leading to his move to the hospital.
"I didn't want to give any information that might steer the course of illness in another direction," Conley explained when asked by reporters about previously released conflicting information as to whether Trump was given any supplementary oxygen.
"The fact of the matter is that he's doing very well," Conley said. "If everything continues to go well, we're going to start discharge planning back to the White House." The doctor added that Trump's oxygen saturation rate is currently at 98 percent.
Trump himself tweeted a video Saturday evening, thanking the staff at Walter Reed and supporters around the world. He said he would be back soon to his campaign for re-election on Nov. 3: "I look forward to finishing up the campaign the way it was started and the way we've been doing."
Trump added that he had no choice but to expose himself to possible infection, rather than working from the Executive Mansion and avoiding contact with people. "I had to be out front," he said. "This is America, this is the United States, this is the greatest country in the world, this is the most powerful country in the world. I can't be locked up in a room upstairs and totally safe [...] As a leader, you have to confront problems. There's never been a great leader that would have done that."
Like this story? Share it with a friend!