Trump & Melania 'will begin quarantine process' pending test results after close aide Hope Hicks contracts Covid-19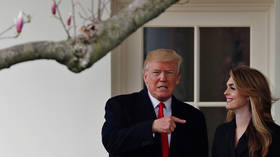 A top aide to US President Donald Trump, Hope Hicks, has tested positive for the coronavirus after traveling on Air Force One this week, the president said, noting that he and the first lady are waiting for their test results.
The positive test came on Thursday after Hicks accompanied President Trump to a rally the day prior, first reported by the Associated Press, CBS and a number of other outlets reported, citing officials who spoke on condition of anonymity.
The White House did not immediately confirm the diagnosis, however Trump later acknowledged it in an interview with Fox News' Sean Hannity, saying Hicks "did test positive. I just heard about that" and that he and the first lady have also been tested and were waiting for the results.
Hope Hicks, who has been working so hard without even taking a small break, has just tested positive for Covid 19. Terrible! The First Lady and I are waiting for our test results. In the meantime, we will begin our quarantine process!

— Donald J. Trump (@realDonaldTrump) October 2, 2020
Hicks, a former White House communications director who now serves as counselor to the president, attended other events with Trump this week in addition to the Wednesday rally, traveling with him aboard Air Force One to the first presidential debate in Cleveland, Ohio on Tuesday night.
Also on rt.com
Take the jab or lose your job: Medical journal calls for a MANDATORY Covid vaccine, says 'noncompliance should incur a penalty'
To date, Hicks is the closest aide to Trump to contract the illness – spending significant time with him in the Oval Office and on the campaign trail – but she is not the first White House employee to do so. In July, National Security Adviser Robert O'Brien tested positive, while a White House valet, a spokesperson for Vice President Mike Pence and a Trump campaign advisor were also infected previously.
Though her present condition is unknown, people close to Hicks told Bloomberg she was "experiencing symptoms of the disease," though they did not specify the extent of her illness.
The White House's deputy press secretary Judd Deere noted earlier on Thursday that "the president takes the health and safety of himself and everyone who works in support of him and the American people very seriously" in a statement on Thursday night.
Also on rt.com
Covid-19 infecting our DREAMS, says study – and researchers claim it hints at 'some form of SHARED MINDSCAPE'
The president and his close contacts undergo daily coronavirus tests, and contact tracing has already been done to determine whether Hicks may have infected anyone else, according to an anonymous White House official cited by the Hill, who added "the appropriate notifications and recommendations have been made." However, it is unclear whether the president will self-quarantine following the reported diagnosis, which would likely force him to call off scheduled events in Florida and Wisconsin in the coming days.
News of Hicks' positive test quickly propelled her name to the top of the Twitter trends, as a flurry of pundits rushed to politicize the story, such as CNN "national security analyst" Sam Vinograd, who said it only proved the White House refuses to "do what's necessary to protect its own staff," while wishing Hicks a "speedy recovery." Others hastened to add that Hicks is often seen in public without a mask.
Think your friends would be interested? Share this story!