The NHS needs to stop being hysterical. Taking steps to shield the vulnerable elderly from Covid is NOT 'age-based apartheid'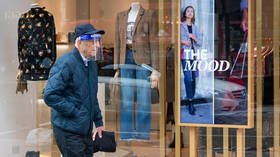 It makes much more sense to protect people who are most likely to die from the disease, rather than place draconian restrictions on the 80 percent of the population to whom it poses little risk. The UK's approach is just so wrong.
The head of the NHS in England, Sir Simon Stevens, this week told a discussion organised by The Spectator magazine that a policy of shielding the oldest and most vulnerable groups of people from Covid-19, rather than imposing local or national lockdowns, would represent "age-based apartheid." Yet, protecting older people and those with pre-existing conditions makes perfect sense – unlike the way Stevens's comment was used in emotive headlines.
Stevens was responding to the suggestion that we should separate the most vulnerable while letting those groups who rarely suffer serious illness live as freely as possible. Three professors – Sunetra Gupta, Carl Heneghan and Karol Sikora – wrote an open letter, also published in The Spectator, asking the government to make transparent the trade-offs between different policies and to provide "a clearly stated objective for the overall response to Covid-19." Given the damage to the economy, healthcare, mental health and personal freedoms, they argued that the government should change course away from a policy of ever-greater restrictions as case numbers rise, adding:
"Instead, more targeted measures that protect the most vulnerable from Covid, whilst not adversely impacting those not at risk, are more supportable. Given the high proportion of Covid deaths in care homes, these should be a priority. Such targeted measures should be explored as a matter of urgency, as the logical cornerstone of our future strategy."
Also on rt.com
A second lockdown for Britain? The evidence simply doesn't justify it
In response, Stevens said:
"The idea that you could completely separate the fifth of the population over 65 I think is implausible. Not least because for some, the most vulnerable, they will be getting help from working-age adults, some of whom will be younger, and some [will be] living in households with younger people and so forth. That's just not how the world works. In any event, there would be legitimate concerns about social isolation - which is giving rise to the discussion about visiting care homes. In a nutshell, extra precautions for those at greatest risk is a sensible part of the mix, but by itself, we are not going to have aged-based apartheid across this country."
There are practical ways to protect the vulnerable elderly without going as far as "age-based apartheid." For example, special efforts have been made to ensure older people can get shopping delivered rather than having to go out themselves. Older people themselves are now much more aware of the risks than before, but at least have choices now about how much risk they are willing to accept. Those choices should not be taken away from them.
That seems to be the opposite of current government policy – to impose sweeping restrictions on everyone and isolate the most vulnerable, whatever their personal wishes.
So area after area of the UK is now under specific local restrictions. Scotland now bans members of one household entering another home. In the north-east of England, the rules will go even further this week, banning households from meeting each other in any enclosed space and strongly advising against mixing outdoors. It's getting to the point where talk of 'local' lockdowns is becoming meaningless, since so many areas now face restrictions that they are, in effect, national restrictions.
Meanwhile, care homes for older people have made visiting almost impossible. Current government guidance leaves the rules up to care homes and local directors of public health, but the clear emphasis is on precaution. If visiting is allowed at all, it says, "this should be limited to a single constant visitor, per resident, wherever possible. This is in order to limit the overall numbers of visitors to the care home and the consequent risk of infection."
While this makes sense from the point of view of preventing the spread of the virus, it makes the lives of older people miserable. Last week, a 104-year-old woman, Mary Fowler, took to social media to plead for the chance to see more of her family, describing her care home as "like a prison." She was well aware that, at her age, she didn't have much time left and she would rather spend it with more of her family. "There must be loads of others like me, wanting to see their bairns at the end of their life."
Also on rt.com
Stop smoking, ditch the pyjamas, stay at your desk: how 'bossware' technology is secretly monitoring you working at home
There seems to be a misguided sense of fairness going on. Rather than be seen to discriminate against older people – which is what the virus itself does – the medical establishment seems to want to make everyone suffer equally. So we end up with the farce of university students being forcibly confined to their halls of residence and told not to go home to their families, despite the fact that the illness poses little risk of serious illness to them.
A better way forward would be to allow society to operate as normally as possible with guidelines and rules that limit our freedom as little as possible. Make it clear that the risk of contagion is highest in places where there is poor ventilation and prolonged close personal contact – sadly, that includes gatherings at home – and allow people to make their own decisions about risk. Prioritise support so that those most at risk do not have to place themselves in situations where the risk is high. Take a more humane approach to care-home visits and avoid the stupidity of moving untested people, or even people who have tested positive, into care homes, as happened earlier this year.
This virus is not going away. In a few months time, if we're lucky, we may have a vaccine for it, but we cannot plan on that basis. We need to balance freedom to get on with things with sensible measures to avoid getting infected, particularly for those vulnerable groups. At the moment, we have a chaotic government lurching from one panicked reaction to another.
Think your friends would be interested? Share this story!
The statements, views and opinions expressed in this column are solely those of the author and do not necessarily represent those of RT.
You can share this story on social media: