'Hot mess inside a dumpster fire inside a train wreck': CNN pundits aghast after chaotic Biden-Trump debate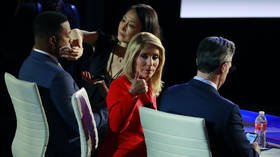 Pundits covering the first presidential debate between Donald Trump and Joe Biden struggled to contain their horror during their post-event analysis, dubbing the throwdown a "dumpster fire" and a "s**t show" live on TV.
President Trump and his Democratic rival Joe Biden took the stage at Cleveland's Case Western Reserve University on Tuesday night, where the two clashed over 90 minutes of debate that was packed with frequent interruptions, personal insults and off-topic meandering. Apparently unimpressed by the performance, CNN's Jake Tapper dubbed the event the "worst debate I've ever seen" just seconds after it finished.
"We'll talk about who won the debate, who lost the debate, but I can tell you one thing for sure: the American people lost tonight," Tapper said immediately after the event, which he described as a "hot mess inside a dumpster fire inside a train wreck."
Also on rt.com
'Will you shut up, man?' Biden struggles to talk over interjecting Trump as debate gets off to messy start
"You just took the words out of my mouth," replied correspondent Dana Bash.
You used some high-minded language, I'm just going to say it like it is: that was a s**t show. We're on cable, we can say that, apologies for being a little bit crude.
Netizens quickly took notice of the explicit line, many voicing wholehearted agreement with Bash's sentiment, while others merely found her use of vulgar language amusing.
Comments were mixed about what exactly made the debate so bad, however, with critics taking aim at both candidates, while some honed in on Fox News debate moderator Chris Wallace.
Going forward, one netizen suggested the candidates' microphones should be muted while the other speaks to prevent interruptions. However, some were at the point of giving up, with one calling the entire event an "embarrassment to America" and arguing that future debates should be canceled "if the rest are just like that."
Think your friends would be interested? Share this story!
You can share this story on social media: