17-year-old arrested and charged after 2 killed during riots in Kenosha, Wisconsin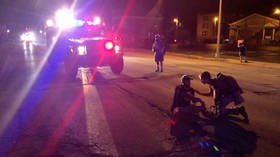 An Illinois teen has been charged with first-degree murder over the shooting of three protesters – two fatal – amid the ongoing riots in Kenosha, Wisconsin. Alleged militia member Kyle Rittenhouse was arrested in his home state.
Rittenhouse was accused of fleeing Wisconsin "with intent to avoid prosecution" for the shooting. A public defender has been assigned to Rittenhouse's case.
Rittenhouse is described as a "fugitive from justice" in public court documents obtained by the Daily Dot.
While two people were fatally shot during the third night of violent rioting in Kenosha, a third victim was hospitalized with injuries that are believed to be non-life-threatening. However, the exact circumstances of the shootings remain murky.
Some witnesses insisted Rittenhouse was a white supremacist supporter of the pro-police 'Blue Lives Matter' movement, while others claimed he was simply there to protect property from rioters.
Also on rt.com
'Boogaloo white supremacist' or upstanding citizen? What we know about the alleged Kenosha shooter
Protests erupted in Kenosha on Sunday after police shot Jacob Blake, an unarmed black man, seven times in the back. Blake was left paralyzed after the shooting. The demonstrations have continued each night since, often descending into violence.
Video footage of the shootings quickly emerged on social media on Tuesday night. One video showed a person shot in the head outside a car dealership. When other rioters pursued the shooter, he fired again, hitting two more people.
A man was filmed carrying a firearm near the site of a shooting which killed two people and injured one person in #Kenosha, Wisconsin, on Tuesday.Police said at least one gunman opened fire on protesters during the third night of demonstrations in the city. #KenoshaProtestspic.twitter.com/BOEgDBgaNg

— Ruptly (@Ruptly) August 26, 2020
On Wednesday, President Donald Trump announced that he would send National Guard troops to Kenosha after county officials pleaded for assistance with out-of-control riots.
Wisconsin Governor Tony Evers had declared a state of emergency on Tuesday and deployed 250 National Guard service members to protect state property, but Kenosha officials said more help was needed.
"Our county is under attack. Our businesses are under attack. Our homes are under attack," officials said in a letter to Evers on Wednesday, begging the governor to "visit Kenosha County and see firsthand the destruction that has been inflicted on our community."
The letter asked for 1,500 federal troops to be sent to Kenosha, but a press release from Evers' office later said 500 federal troops would be sent.
A hearing for Rittenhouse is expected to be held on Friday.
Court records show he's been assigned a public defender and will appear for extradition hearing on 8/28

— Nick Penzenstadler (@npenzenstadler) August 26, 2020
Like this story? Share it with a friend!
You can share this story on social media: