Scuffles break out as National Guard moves in to disperse protesters blocking entrance to Trump's Mt. Rushmore event (VIDEOS)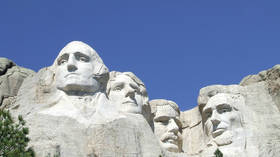 A face-off occurred between the National Guard and protesters blocking the road to Mount Rushmore, the site of US President Donald Trump's rally, after they refused to back down. Arrests have been reported.
With several hours left until Trump's 'Salute America' event to mark Independence Day was to kick off at the Mount Rushmore National Memorial in South Dakota on Friday, an estimated 200 to 300 protesters effectively made the road leading into the venue impassible.
BREAKING: Protestors using vans to block entrance to Mt. Rushmore event. Removing tires creating physical barrier to event. pic.twitter.com/og0DND5FHH

— Jordan Parker (@jordanparker_) July 3, 2020
Indigenous protesters at Mount Rushmore (sacred Lakota land) have removed the tires from the large white vans in the background, creating a road block that will be very difficult to move.🎥: @EEBormettpic.twitter.com/o5Qc5Fgrn0

— Joshua Potash (@JoshuaPotash) July 3, 2020
The protesters parked several vans in the middle of the road and blew out tires on them so they could not be easily removed by law enforcement.
Videos of the standoff showed protesters climbing on the vans and waving banners.
A popping sound, resembling that of a gunshot or a minor blast, could be heard on some of the footage. It appeared to be the result of the protesters' efforts to disable the vehicles, however.
It did not take long for the National Guard to be called to the scene.
Footage showed them engaging the protesters, who, at first, refused to scatter on their own.
#BREAKING: National guard is working to disperse protesters who have formed a blockade leading to Mount Rushmore where President Trump will deliver a 4th of July speech. pic.twitter.com/XeZaTdLwka

— Jennifer Franco (@jennfranconews) July 3, 2020
Eventually, guardsmen and police pushed back the demonstrators and reached the vans, causing only minor clashes and a small number of arrests.
Large tow trucks were then called in to haul the vehicles off the road.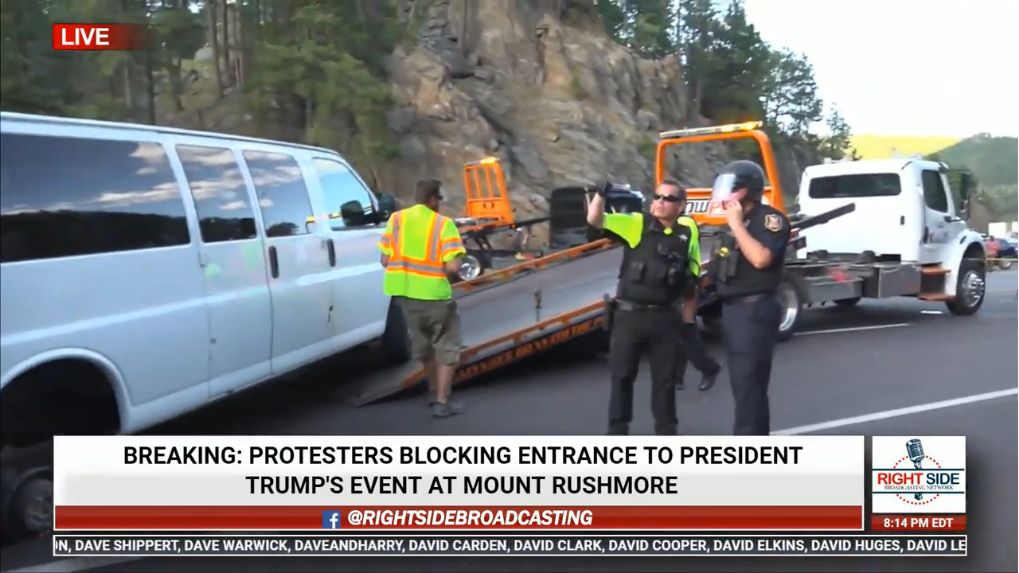 The crowd appeared to reduce in size not long after, as officers brought out less-lethal riot control weapons.
Think your friends would be interested? Share this story!