US coronavirus death toll tops 100,000 as politics overshadows grief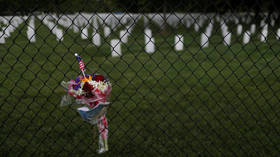 Covid-19 has claimed over 100,000 lives in the United States, the latest figures show, marking another dark milestone in the pandemic – which has been increasingly politicized in the run-up to the November presidential election.
The US death toll now stands at 100,276, according to data gathered by Johns Hopkins University, adding 1,401 new fatalities in the last 24 hours. Just shy of 1.7 million people have been infected by the lethal virus nationwide.
As deaths crossed the 100,000 mark, former Vice President and 2020 Democratic hopeful Joe Biden issued a pre-recorded video response online. While the post was meant to share in the country's grief, Biden did not miss out on an opportunity to score political points against his electoral rival, President Donald Trump.
There are moments in our history so grim, so heart-rending, that they're forever fixed in each of our hearts as shared grief. Today is one of those moments. 100,000 lives have now been lost to this virus.To those hurting, I'm so sorry for your loss. The nation grieves with you. pic.twitter.com/SBBRKV4mPZ

— Joe Biden (@JoeBiden) May 27, 2020
"It's made all the worse by knowing that this is a fateful milestone we should have never reached – that could have been avoided," he said, citing a study that found up to 36,000 lives could have been saved "if the administration had acted just one week earlier… and did what it had to do."
Also on rt.com
Cuomo blames nursing homes for following his Covid-19 order that KILLED PATIENTS - after removing it from website
Across the aisle, the president and fellow Republicans have also found ways to turn the health crisis to their political favor, rallying the rank-and-file against sweeping containment measures imposed by Democratic governors while launching a rhetorical assault on Beijing over its handling of the pandemic. Earlier this month, Trump vowed to halt US funding to the World Health Organization (WHO), arguing it has a pro-China bias and that it helped Beijing "cover up" the coronavirus outbreak, insisting they are both to blame for the crisis. China and the WHO have repeatedly rejected the allegations, saying their response was appropriate and transparent.
Also on rt.com
California homeless deaths multiply as Covid-19 lockdowns cut off access to medical care, food & sanitation
Worldwide, the coronavirus has infected more than 5.6 million people and killed around 354,000, a disproportionate number of them in the US. As some of the country's worst hotspots begin to subside, however, outbreaks have accelerated in South America, with the WHO warning the continent – and Brazil in particular – is fast becoming the world's top epicenter.
Though a number of clinical trials are underway, no vaccine yet exists for the pathogen, and experts have warned that one probably won't be ready for at least a year – suggesting the pandemic, and its politicization, are set to grind on in the months to come.
Also on rt.com
Deadlier than Covid? Medics sound alarm as lockdown suicides SOAR in US – and health officials knew it would happen
Think your friends would be interested? Share this story!
You can share this story on social media: