At least 3 injured after gunman goes on rampage at Arizona mall, suspect in custody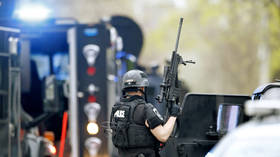 At least three people have been shot after a gunman, reportedly wielding an AR-15 style rifle at the time of the attack, opened fire at a mall outside Phoenix, Arizona. One suspect has been apprehended.
The incident unfolded about 7:25pm local time at the Westgate Entertainment District in Glendale, a city in Maricopa County, Arizona, nine miles northwest of Phoenix.
At least three people were shot, including one critically, ABC reported, citing local police. Witnesses, including Arizona State Sen. Martín Quezada, reported that there are "multiple victims" resulting from the incident.
While police so far have not released details on the shooter's weapon of choice, Quezada, who shared his account of the incident on Twitter, reported that the individual was armed with an AR-15.
"I just witnessed an armed terrorist with an AR-15 shoot up Westgate. There are multiple victims."
A massive police presence has been reported at the scene, with videos showing dozens of police cars rushing to the mall.
Footage has surfaced on social media purportedly filmed by the alleged gunman, identifying himself as Armando Junior Hernandez. The video consists of several edits, showing a cache of weapons, Hernandez driving to the site, as well as the alleged moment of the shooting.
"My name is Armando Junior Hernandez and I'm going to be the shooter of Westgate, 2020. That's to get back to mean society. Let's get this done," the man says casually in one of the clips. Another video shows him firing rounds into a dark alley.
The disturbing footage concludes with an interaction between the alleged gunman and one of his victims who is seen lying on the ground in a parking lot after apparently being shot.
The woman can be heard pleading with the attacker as he suggests his motives, saying: "Society is bulls**t. Society is f**king s**t." RT cannot independently verify the authenticity of the footage.
Glendale Police said that they were working with multiple agencies, including the FBI, to carry out searches of nearby buildings and businesses to ensure that there are no other victims.
The state government will do everything it can to provide support to victims and the wider community, Arizona Governor Doug Ducey vowed in a statement posted on Twitter. He extended his condolences to individuals and families who were affected, and praised first responders and police who arrived at the scene.
Like this story? Share it with a friend!