'Strikes successful, other options discussed': Esper & Pompeo brief Trump on 'anti-Iran' raids in Iraq & Syria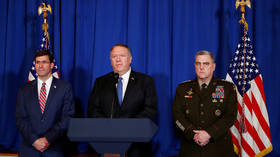 Top national security advisers told President Donald Trump that the air raids against Shiite militias in Iraq and Syria were a total success – and briefed him on 'other' ways to punish Iran for the alleged attacks on US interests.
"We will not stand for the Islamic Republic of Iran to take actions that put American men and women in jeopardy," US Secretary of State Mike Pompeo declared, standing beside Defense Secretary Mark Esper at a press event at Trump's Mar-a-Lago resort.
Also on rt.com
US strikes Kataib Hezbollah HQ in Iraq, Syria
The Pentagon chief said the Sunday strikes were successful and that officials discussed 'other options' with Trump.
Earlier in the day, US F-15 fighter jets struck three Kataib Hezbollah targets at Qaim near the Syrian border, and two in Syria. According to the Shiite militia group, at least 25 of their fighters were killed and nearly three dozen injured in the strikes. Washington accuses the group of "repeated attacks on Iraqi bases that host Operation Inherent Resolve (OIR) coalition forces."
Also on rt.com
US civilian contractor killed, multiple servicemen injured in rocket attack on Iraqi base near Kirkuk – reports
Pompeo threatened Tehran earlier this month with a "decisive US response" should its sponsored militias continue their attacks on US forces, even though Iran's involvement has not been conclusively proven. On Friday, as if on cue, the latest rocket attack on a base near Kirkuk killed an American contractor and injured several US troops.
Facing the increasing possibility of a proxy war between Washington and Tehran breaking out on his soil, Iraqi caretaker prime minister Adel Abdul Mahdi called an emergency meeting of his security council on Sunday night.
Also on rt.com
Page from Iraq playbook: US invokes WMDs to pile 'maximum pressure' sanctions on Iran
Think your friends would be interested? Share this story!