SWAT deploys gas & arrests shooting suspect in Columbus, Ohio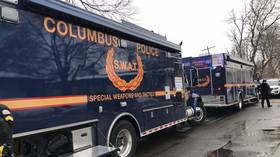 After a tense hours-long standoff with police and negotiators, a man who barricaded himself inside a house in Ohio and opened fire on officers has been taken into custody after a SWAT team fired tear gas into the residence.
Locals were advised to keep away from the area after an armed man took up a position inside a house in the city of Columbus on Monday, firing multiple rounds at police. K9 officers, SWAT units and hostage negotiators were called the scene to assist, where they tried for hours to coax the man to come out peacefully. The Columbus Police Department's Assault Unit was also present, though police reportedly did not fire any rounds into the house.
Nearby homes were evacuated as negotiators tried to persuade the shooter into a peaceful surrender, while several schools in the area were also placed on lockdown.
Several hours into the active shooter situation, a SWAT unit finally subdued the suspect with tear gas and took him into custody, according to the Columbus Police Department. No injuries were reported in the raid.
"After about a four-hour standoff, we did have a suspect taken into custody," said Columbus Police Commander Blake Griffith, adding that police do not believe any bystanders were in the house with the shooter.

After SWAT deployed chemical agents into the house, he came out peacefully and we had a peaceful conclusion to the incident.

*3RD UPDATE 12/16/19 6:10pm: The suspect was taken into custody after SWAT deployed gas into the home. Acting Deputy Chief Blake Griffith will be updating local media at 6:20pm. https://t.co/htFjPQfsHf

— Columbus Ohio Police (@ColumbusPolice) December 16, 2019
Think your friends would be interested? Share this story!
You can share this story on social media: