Erotic dance by Ukrainian border guards becomes internet sensation (VIDEO)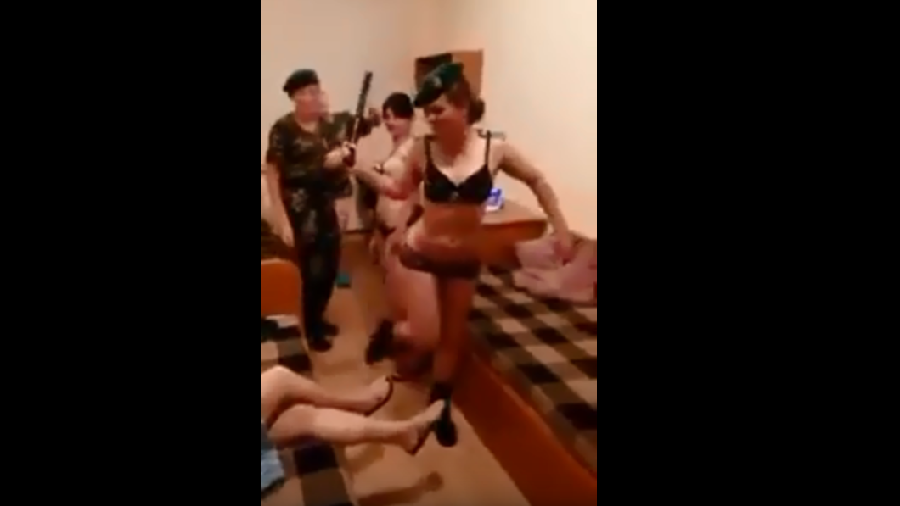 A sexy video of semi-naked female border guards rocking it out to the tune of 'Gentlemen' by Korean signer Psy has become an internet sensation in Ukraine.
The girls, who are clad in only underwear and parts of the Ukraine border-guard uniform, are seen dancing and having fun in the footage. It was filmed during a party, which the off-duty border guards hosted at their dormitory in the village of Orshanets in Cherkasy Region, Ukraine.
The most gifted dancer among them wore border-guard shoulder straps, which were fastened to her bra. She also wore a green uniform beret and used a baton as a prop while performing her sexy routine.
The video was uploaded on Facebook a few days ago and became a huge hit after it was shared by Ukrainian television host, Ruslan Kotsaba.
"Those fiery and hot border guard servicewomen should stage gay pride parades across Ukraine," Kotsaba wrote, adding that they would be perfect for the job if they were given more colorful underwear and taught better dance moves.
Some users were outraged by the video, decrying the girls' behavior and even calling the whole affair "Satan's ball." Others said that the dancers had "disgraced" the Ukrainian military uniform and called for them to be sacked.
Such criticism was far outweighed by positive comments from people who saw nothing offensive in the footage, and defended the servicewomen. "Border guards are people too… They have the right to relax… Well done… Beautiful girls," one of the users wrote.
There has so far been no information as to whether the girls faced any disciplinary sanctions from their commanders as a result of the controversial video.
In January, a BDSM-themed video clip shot in a dorm by students of an aviation institute in Ulyanovsk made headlines in Russia. The cadets risked expulsion for the behavior, which the institute's administration called "shameful."
But they eventually escaped with a reprimand after other students across Russia supported them, and many people, including the country's biathlon team, recreated their video and posted it online.
Like this story? Share it with a friend!
You can share this story on social media: