Pentagon chief fires US Navy chief over SEAL scandal, says Gallagher to keep his Trident pin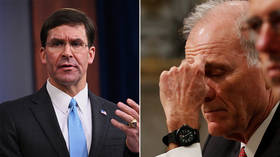 US Navy Secretary Richard Spencer has been fired amid controversy over Navy SEAL Edward Gallagher, which the White House has waded into. Siding with President Donald Trump, the Pentagon chief said Gallagher will keep his pin.
"I am deeply troubled by this conduct shown by a senior DOD official," US Defense Secretary Mike Esper said in a statement Sunday, referring to the Spencer's handling of the Gallagher case.
"Unfortunately, as a result I have determined that Secretary Spencer no longer has my confidence to continue in his position. I wish Richard well," he added.
Also on rt.com
Trump & Navy trade blows as confusion, conflicting reports swirl around review to expel SEAL accused of war crimes
In a statement carried by the DOD, Esper is said to have been dissatisfied with the "lack of candor over the conversations with the White House" the Navy chief apparently had behind his back.
Spencer attempted to persuade White House officials to talk Trump out of meddling in the Gallagher case shortly before the commander-in-chief fired back on Thursday tweeting that the "Navy will NOT be taking away" Gallagher's Trident insignia, the Washington Post reported.
Esper was made aware of the fact during the conversation with Trump and Mark Milley, chairman of the Joint Chiefs of Staff, on Friday, the statement revealed.
Noting that the defense secretary was effectively blindsided by the Navy secretary, the Pentagon said that "disciplinary and fitness for duty actions… should be allowed to play itself out objectively and deliberately in fairness to all parties."
Nevertheless, "given the events of the last few days," Esper decided that Gallagher should keep his Trident pin, the statement reads.
Navy's 'insubordination' to Trump?
Spencer's firing comes on the heels of a vicious attack by Gallagher, the man at the center of the scandal, on Sunday. He claimed his superiors were seeking revenge, not justice, and accused them of "insubordination" to the US president.
Gallagher appeared on Fox & Friends on Sunday, sharing his views about his trial and the prospects of him getting kicked from the SEALs. The interview had been teased on Twitter by none other than Donald Trump, and Gallagher did not disappoint his commander-in-chief, launching a bitter attack on his Navy superiors.
Navy Seal Eddie Gallagher will be on @foxandfriends this morning at 7:30 A.M. Have no fear, all will end well for everyone!

— Donald J. Trump (@realDonaldTrump) November 24, 2019
Gallagher accused Spencer of "meddling" in his case, and Rear Adm. Collin Green of "showing complete insubordination" to Trump. He claimed that the Navy's plan to carry out a Trident review – that might potentially result in his expulsion from the SEALs – "is all about ego and retaliation," adding that all what he wanted now was to retire from the military in peace.
Gallagher was accused of committing war crimes during his 2017 deployment to Iraq – including shooting at civilians and stabbing a wounded prisoner – and was court-martialed a year later on seven charges. He was ultimately acquitted of all but one; the court found him guilty of taking a photo with a corpse and demoted him one rank.
The sentence, however, was challenged by Trump, who was a vocal supporter of Gallagher during and after his court-martial. Trump reinstated him in his rank last week, while pardoning two other soldiers accused of committing war crimes.
Also on rt.com
Make Americans exceptional again? Trump trumps Pentagon, pardons 2 soldiers charged with war crimes
Think your friends would be interested? Share this story!
You can share this story on social media: