Make Americans exceptional again? Trump trumps Pentagon, pardons 2 soldiers charged with war crimes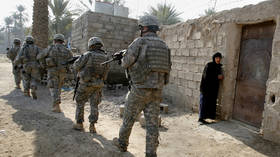 President Donald Trump has pardoned two soldiers charged for war crimes in Afghanistan, suggesting that US troops are immune even in the face of their own military justice system, let alone the International Criminal Court.
The president signed a clemency order on Friday granting full pardons to two Army officers facing war crimes charges – one awaiting trial and the other already behind bars – and reinstating the rank of a Navy Seal demoted earlier this year over similar war crimes accusations.
Former Army 1st Lieutenant Clint Lorance was convicted of second-degree murder in 2013, after ordering his platoon to open fire on two civilians in Afghanistan. In addition to being dismissed from the Army, Lorance was sentenced to 19 years in the military prison at Fort Leavenworth, where he remained up until the pardon.
Also on rt.com
International court judge resigns, citing 'shocking' interference from 'above the law' US
The second pardon was granted to Army Major Mathew Golsteyn, who faced court-martial after admitting – on national television, no less – to killing a freed Afghan prisoner, even though he acknowledged the man was unarmed at the time. He would later admit to disposing of the body in a burn pit along with two other servicemen.
Though acquitted of murder charges filed after he stabbed a wounded enemy fighter with a hunting knife – reportedly telling fellow soldiers "he's mine" before the act – Navy SEAL Edward Gallagher was sentenced for the lesser crime of posing with a corpse in July, and was demoted from Chief Petty Officer to Petty Officer First Class. President Trump has now reversed that demotion, reinstating Gallagher's previous rank.
In its statement on Friday, the White House said it was giving a "swift resolution" to Golsteyn's case solely "in the interests of justice," and hailed the broader move as giving "second chances" to "deserving individuals." President Trump himself added: "when our soldiers have to fight for our country, I want to give them the confidence to fight."
Also on rt.com
'Major international victory': Trump cheers ICC decision not to probe US atrocities
There is indeed good reason for confidence among American troops when it comes to war crimes allegations, as Washington regularly fights tooth-and-nail to insulate US servicemen from any such charges. Apparently displeased by an International Criminal Court (ICC) war crimes probe targeting US troops launched in 2017, earlier this year Washington blocked the entry visa of the body's chief prosecutor, Fatou Bensouda, barring her from investigating in the US.
Less than a month prior, Secretary of State Mike Pompeo insisted Washington would not allow American soldiers to live in "fear of unjust prosecutions," despite the fact that he opposes any impartial investigation that could establish whether particular charges have merit, preferring "internal" probes which reliably clear all personnel of wrongdoing.
Perhaps sensing the bad optics of the decision, however, current and former military officials have questioned whether the pardons would send a "bad message" to both US soldiers and the rest of the world. In May, retired General Martin Dempsey suggested the pardons could signal "that we don't take the Law of Armed Conflict seriously."
Despite the apparent concern, the Army said it would nonetheless go through with the pardons in a statement on Friday, acknowledging "the president has the power to grant pardons for federal offenders" under the US Constitution.
Think your friends would be interested? Share this story!
You can share this story on social media: