US denies visa to ICC chief prosecutor, unhappy with her probing American war crimes in Afghanistan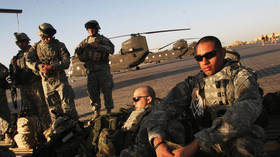 Washington has annulled the entry visa of Fatou Bensouda, chief prosecutor of the International Criminal Court, after the State Department vowed to shield Americans from "unjust prosecutions" of possible war crimes in Afghanistan.
"We can confirm that the US authorities have revoked the prosecutor's visa for entry into the US," Bensouda's office told Reuters in an email. However, the move should not restrict her travels to the UN headquarters in New York City.
Less than a month ago, US Secretary of State Mike Pompeo made clear that the US would not allow Americans to live in "fear of unjust prosecutions" just because thousands of citizens were sent to "defend" their country on the other side of the globe, some 7,000 miles away.
"If you're responsible for the proposed ICC investigation of US personnel in connection with the situation in Afghanistan, you should not assume that you still have, or will get, a visa or that you will be permitted to enter the United States," he warned in mid-March.
Over the last two years, the Gambian lawyer has been probing US-led war crimes in Afghanistan but has not yet opened a formal investigation into alleged atrocities conducted over the last 18 years. For now, the preliminary inquiry remains in Pre-Trial Chamber, even though Bensouda found a "reasonable basis to believe that war crimes and crimes against humanity have been committed in connection with the armed conflict in Afghanistan."
Only the American military system can judge the servicemen, Pompeo said, warning the ICC to drop their inquiry. "We are prepared to take additional steps, including economic sanctions, if the ICC does not change course," Pompeo warned.
The ICC is investigating alleged war crimes and crimes against humanity committed by various parties in the protracted conflict, including US forces, as detailed in a 2016 report. The part concerning unidentified members of the US military and intelligence relates to dozens of cases in 2003-2004, and alleged crimes like torture, cruel treatment, and sexual assault.
Also on rt.com
Billions in US funds & equipment lost to 'out of control' corruption in Afghanistan
The ICC says those crimes may have been committed in furtherance of US policy in the freshly occupied country, rather than a set of individual unrelated atrocities. In light of this, Washington's resistance to the probe may be more than a sign of principled rejection of any international authority over US nationals.
US courts have not been very forthcoming in prosecuting Americans for such crimes. A notable exception is the case of retired US Army Ranger turned CIA civilian contractor David Passaro. Over two nights in 2003, he tortured to death an Afghan man named Abdul Wali, who turned himself in after being accused of taking part in a rocket attack on a US base.
Passaro was sentenced to serve eight years and four months in prison, and later said he was a scapegoat for the US government, which wanted to show the public that it was holding the CIA accountable in the wake of the Abu Ghraib prison scandal.
Like this story? Share it with a friend!
You can share this story on social media: