Two dead, multiple wounded in California high school shooting, suspect in custody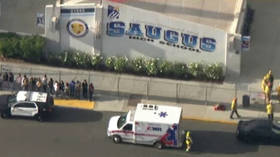 Two people have been killed and several others injured in a shooting at a high school in Santa Clarita, California. Police have apprehended the suspect, who is recovering from a self-inflicted gunshot wound.
Police responded to a shooting at Saugus High School, around 40 miles north of Los Angeles, early Thursday morning. Upon reaching the school's quad, officers discovered six wounded students, who were triaged and taken to nearby hospitals.
A 16-year-old female victim succumbed to her wounds at Henry Mayo Hospital. Another student was later pronounced dead, according to Santa Clarita Valley Sheriff. Three more people remain hospitalized.
Homicide Captain Kent Wegener told reporters that the suspect has also been brought to hospital for treatment. The 16-year-old shot his five victims before turning his weapon on himself and shooting himself in the head.
Police found an empty .45 caliber handgun on the quad when they discovered the victims.
The suspect is a student at the school who lived in the area. Police have contained the perpetrator's house and are awaiting a search warrant to comb the property for evidence.
Neighboring schools had been placed on lockdown, and the Sheriff's Department advised locals to avoid the area as police responded. Area residents were asked to lock their doors and remain indoors.
Video footage from the scene showed lines of students being evacuated with their hands over their heads, and paramedics wheeling what appeared to be wounded students out on gurneys.
Around 2,440 students are enrolled at Saugus High School, which serves the city of Santa Clarita.
Also on rt.com
This is America: Teacher's 'bullet wound' photo illustrates US mass shooting problem
Think your friends would be interested? Share this story!
You can share this story on social media: