Three people reported killed in shooting at Walmart in Duncan, Oklahoma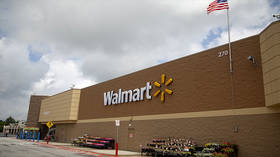 At least three people have been shot and killed at a Walmart in Duncan, Oklahoma, according to police. The person who opened fire at the store is reportedly among the dead.
The shooting took place at the parking lot outside the Walmart Supercenter on Highway 81, according to Duncan Police Chief Danny Ford, with the first calls coming in to the police scanner around 9:54 local time.
Local schools have been locked down as a precaution, and the store has been closed, though District Attorney Jason Hicks confirmed to local media that the scene was contained and no longer an "active shooter" situation.
Also on rt.com
5 people, including children, brutally killed in San Diego shooting
The gunman fired nine rounds into a man and a woman sitting in a car before he was confronted by an armed citizen and turned the gun on himself, according to a witness who spoke to local station KOCO. A handgun was found at the scene.
Family members of the deceased told local media the shooting was related to a domestic dispute between a husband and wife.