US to allow indefinite detention for migrant children following rule change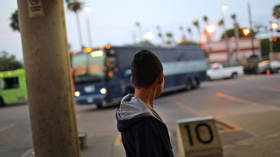 The Department of Homeland Security (DHS) has announced a change in policy that could see migrant children detained indefinitely, replacing a previous restriction limiting confinement of undocumented minors to 20 days.
The department announced on Wednesday that it would terminate the 1997 Flores Settlement, which set requirements for detaining migrants, arguing the rules contained a "loophole" that drives illegal immigration into the US.
"By closing this key loophole in Flores, the new rule will restore integrity to our immigration system and eliminate the major pull factor fueling the crisis," acting Homeland Security Secretary Kevin McAleenan said at a news conference.
Also on rt.com
Racist or protecting vulnerable Americans? What's in Trump's new immigration rules
A new policy will be set within 60 days, and will not limit how long children or their families can be held in custody of US immigration agencies, though it is expected to face challenges in the courts.
Under the previous Flores rules, border agencies were required to release detained migrant children – and their parents, if present – after a period of 20 days, but critics, including the president, argue the restriction has led to a "catch and release" scenario, allowing illegal migrants a quick and easy path into the country.
McAleenan claimed the rule will ensure "that all children in US government custody are treated with dignity" and respect. However, American Civil Liberties Union (ACLU) slammed the move, saying "the government... shouldn't be seeking to put more kids in jail for longer."
Also on rt.com
Outraged with Trump ICE raids? Remember, he is yet to beat Obama's deportation record – Lee Camp
President Donald Trump's immigration policies have repeatedly come under fire from activists and political opponents. The US leader, for his part, lamented it as 'double standards,' saying that some of the same policies currently in place were implemented by his Democratic predecessor, President Barack Obama, but did not provoke the same protest or condemnation.
According to government data, more migrants were deported during Obama's eight years in office than under any previous administration, which earned him the unfortunate moniker of 'deporter-in-chief.' During his first term, nearly 400,000 people were sent back per year, topping out in 2012 at over 409,000.
Despite Trump's reputation as a major border hawk, his administration has overseen fewer deportations annually than Obama's, with around 250,000 in 2017 and 2018, and just over 280,000 so far this year, as of May.
Think your friends would be interested? Share this story!