'Where does life begin?' Alabama's extreme abortion ban inflames ongoing DEBATE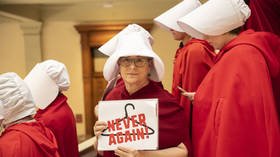 Alabama has just passed the most restrictive abortion law in the US, banning the procedure even in cases of rape or incest and firing up a debate that has raged since Roe v. Wade first made abortion legal in 1973.
"We know that it's a concerted attempt to overturn Roe v Wade – that's why they're making the litmus test so strong," former Georgia congresswoman Dee Dawkins-Haigler told RT, denouncing the Alabama bill as an "all-out attack on women's right for reproductive freedom."
Also on rt.com
Alabama governor signs draconian abortion ban punishing doctors with up to 99 years in prison
"Abortion is a fig leaf. It excuses men from their lack of responsible behavior," argued Carrie Sheffield, national editor of Accuracy in Media. "We need to hold men accountable every time they abandon women and make them feel like they have no other option."
Dawkins-Haigler decried the cruelty and stigmatization of forcing rape and incest victims to carry a child to term, but Sheffield insisted that where there's a human life at stake, "it's not how that human life got there" that matters. "Two wrongs don't make a right," she said.
Also on rt.com
'Unwanted children will be killed anyway': Alabama Dem sparks uproar with pro-abortion argument
If you like this story, share it with a friend!
You can share this story on social media: