Sex strike to stop abortion bills? Alyssa Milano's protest raises eyebrows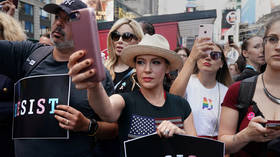 Alyssa Milano wants women to withhold sex to protest a number of bills aimed at restricting abortions. #SexStrike trended on social media as the actress's odd idea was met with confusion, support, and mockery.
Our reproductive rights are being erased.Until women have legal control over our own bodies we just cannot risk pregnancy. JOIN ME by not having sex until we get bodily autonomy back.I'm calling for a #SexStrike. Pass it on. pic.twitter.com/uOgN4FKwpg

— Alyssa Milano (@Alyssa_Milano) May 11, 2019
Milano, who was a prominent voice in the #MeToo movement, was responding to legislation passed in Georgia that bans abortion once a heartbeat can be detected, which is usually at six weeks. The law is seen as a near-ban on abortion, as many women don't realize they are pregnant until the fifth week, meaning organizing an abortion before the cut-off would be very difficult.
A number of movie and TV production companies said they will cease operations in Georgia in response to the bill. The state has tax incentives that attract the film industry, and 17 of the year's top 100 films were produced in Georgia, NBC reports.
I fully support women going on a #SexStrike for any reason whatsoever, and anyone who disagrees does so because they see women as male property. Hell, maybe it works. Try it for ending war, poverty and government corruption, too.

— Caitlin Johnstone ⏳ (@caitoz) May 11, 2019
Does anyone else see the irony in calling for a #sexstrike to gain choice regarding unintentional pregnancies?

— Nicole Saphier, MD (@NBSaphierMD) May 11, 2019
Similar bills are being proposed in other states, with Alabama set to vote on a bill that would make abortion impossible once a fertilized egg is "in utero," meaning when it has reached a woman's uterus, which can happen two weeks before her period is due and long before she would be aware of being pregnant.
Mississippi and Ohio have recently passed 'heartbeat' laws of their own, which haven't come into effect yet.
#SexStrike was trending on social media as people reacted to Milano's idea and gave their own take on it. A number of people said they were happy for liberal women to be opting out of sex.
Ok so the main problems w/ the #sexstrike response to Georgia's abortion bill: 1. Men who feel comfortable restricting women's bodily autonomy in the legislature definitely do it at home/in the bedroom too. They will continue to get sex through force, coercion, or money.

— lauren (@readsalot2311) May 11, 2019
I fully support the fight for women to have autonomy over their own bodies—including the #SexStrike. (Though I also suspect that those men hateful enough to legislatively subjugate women—aren't having much sex to begin with, nor do they yield to consent).#RealMenAreProChoice

— John Pavlovitz (@johnpavlovitz) May 11, 2019
Me, waking up to #SexStrike and #Lysistrata trending: pic.twitter.com/DrOt2vZMcp

— Nazi Punks Fuck Off (@vulpesc0rvum) May 11, 2019
I'm all for this #SexStrike that's being called for as women fight to prevent men from controlling their bodies, but most of these controlling, ignorant, old men are already likely on their own unintended "sex strike"How about ONLY Women make laws controlling women's bodies?

— Brian Krassenstein (@krassenstein) May 11, 2019
May 11, 2019
Liberal women go on a #SexStrike, you'll find them at their usual hangout on aisle 12. pic.twitter.com/kdNUexl12q

— 🇺🇸Payback is coming. (@CommieforniaMag) May 11, 2019
I'm sorry but I'm not sure how consequential women who don't shave their underarms and wear vaginas on their head participating in a #SexStrike will be. Not sure these types of women are in any type of particular demand.

— CJ Pearson (@thecjpearson) May 11, 2019
Georgia's law won't be enforced until 2020, and is likely to be challenged in court based on the Supreme Court ruling in Roe v Wade that found unduly restrictive state regulation of abortion is unconstitutional. Abortion laws in Iowa, North Dakota, and Kentucky have been stopped in the courts.
Like this story? Share it with a friend!
You can share this story on social media: