Alabama Senate passes bill criminalizing abortion, with no exceptions for rape & incest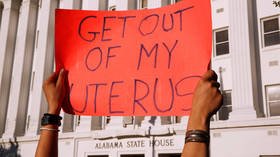 Alabama is poised to pass the strictest abortion law in the US after its Senate voted to criminalize the procedure even in cases of rape or incest and send doctors performing it to prison for up to 99 years.
The bill prohibits abortion in all cases except when necessary to save the mother's life, declaring the procedure a felony punishable by 10 to 99 years in prison. Even attempting to perform an abortion would carry a one to 10 year sentence. The measure passed the state Senate 25 to 6 on Tuesday after a long, drawn-out debate that included filibusters, shouting matches and protests, and now needs only the signature of the governor – a pro-life Republican – before it becomes law.
Also on rt.com
'Pro-life' Texas bill allowing death penalty for abortions gets marathon House hearing
The bill is draconian on purpose, State Rep. Terri Collins (R), its sponsor, told the Washington Post after its passage, explaining that exceptions for rape and incest victims were specifically left out because the law's backers want it to be challenged all the way to the Supreme Court. They hope to force a legal battle with the ultimate goal of overturning Roe v. Wade, the 1973 ruling that legalized abortion nationwide. Collins, who previously supported so-called "heartbeat bills" that ban abortion at any point after a fetus' heartbeat can be detected, believes desperate times call for desperate measures: "I believe we can't get a heartbeat bill until we get Roe v. Wade turned over," she said.
Democratic presidential candidates took to Twitter to voice their disapproval.
Incredulous women pointed to the bill's disproportionately male supporters – though its sponsor is female, and Alabama's governor, a woman, has the final say in whether it becomes law.
Some noted that abortion would carry a stiffer sentence than rape.
Others pointed out some inconsistencies in the term "pro-life."
And even self-described pro-lifers looked askance at the law.
But a handful of supporters applauded the measure.
The American Civil Liberties Union has vowed to stop the law, which they have declared unconstitutional, issuing a statement promising that "abortion will remain a safe, legal medical procedure at all clinics in Alabama." In 2016, they won a $1.7 million judgment after federal courts struck down a 2013 law criminalizing abortion in Alabama as unconstitutional.
Like this story? Share it with a friend!
You can share this story on social media: