'Pro-life' Texas bill allowing death penalty for abortions gets marathon House hearing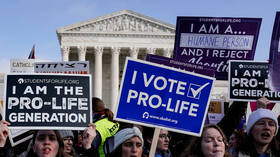 The Texas state House has held an all-night hearing on proposed legislation that would not only criminalize abortion, but make it a capital crime – pushing an already-polarizing issue into overdrive.
"If you murder a pregnant woman, you get charged twice. So I'm not specifically criminalizing women," the bill's sponsor, Rep. Tony Tinderholt (R), explained during the hearing. "What I'm doing is equalizing the law."
Also on rt.com
Twitter reinstates anti-abortion movie account after sparking outrage with unexplained suspension
The "Abolition of Abortion in Texas Act" would classify abortion as murder "regardless of any contrary federal law, executive order, or court decision," and allow both abortion providers and women receiving abortions to be charged with murder, which is a capital crime in Texas.
Lawmakers heard from 446 supporters of the bill, which would make no exception for cases of rape or incest, and would treat abortion in all stages of pregnancy with equal severity, conferring upon an embryo from "the moment of fertilization" the same "rights, powers and privileges as are secured or granted by the laws of this state to any other human child."
The House also heard from 54 people opposed to the bill before the marathon hearing finally concluded at 3am on Tuesday. The bill was pending in committee as of Wednesday afternoon, according to HuffPost.
While Tinderholt initially introduced the bill in January 2017 to death threats and ridicule, it was never granted a hearing until Monday, when Rep. Jeff Leach (R), chairman of the House Committee on Judiciary and Civil Jurisprudence, chose to give it an airing in the name of "creating a culture of life." Even the "pro-life, through and through" Leach, however, isn't too keen on a measure critics have likened to the misogynistic dystopia of 'The Handmaid's Tale.'
Also on rt.com
Russian Orthodox priest says abortions 'scarier than the Holocaust'
"I do not believe that convicting a woman who has had an abortion of murder and possibly subjecting her to the death penalty is constitutional, nor does such a policy advance the cause of life in Texas," he said. Leach does not plan on allowing the committee to advance the proposal to a vote by the full House, though some of his colleagues have framed his lack of support as a betrayal.
Other pro-life groups have registered similar misgivings. Texas Alliance for Life has pointed out that even before the Supreme Court's Roe v Wade decision legalized abortion in the US in 1973, Texas never prosecuted women for having abortions. Texans for Life also opposes the ban, saying it "only protects the abortionist."
Others had a problem with an ostensibly "pro-life" congressman sending women to the execution chamber. "I'm trying to reconcile in my head the arguments that I heard tonight about how essentially one is OK with subjecting a woman to the death penalty… to do to her the exact same thing that one is alleging she is doing to a child," Rep. Victoria Neave (D) said during the hearing.
Like this story? Share it with a friend!
You can share this story on social media: