'National security risk': Trump may ban US telecoms from using Huawei tech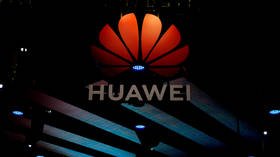 US President Donald Trump is reportedly planning to prohibit US telecom firms from using equipment made by companies that pose a "national security risk" with an executive order – a ban apparently aimed at China's Huawei.
The order, which could be signed as early as this week, does not specify the countries or companies to be banned as "national security risks," but it is designed to target Huawei and Chinese telecoms in general, three officials familiar with the matter told Reuters.
It will invoke the International Emergency Economic Powers Act, giving the president jurisdiction over interstate commerce in case of an "unusual and extraordinary threat" to the "national security, foreign policy, or economy of the United States" originating "in whole or substantial part outside the United States," according to the officials, who said the US Department of Commerce would be responsible for developing an enforcement framework.
Also on rt.com
Take trade war deal or be 'hurt very badly,' Trump warned China before Beijing hit US with tariffs
Trump has reportedly been weighing the order for over a year, and if he moves ahead, it will add to the gravity of the US-China trade war that has escalated over the past two weeks. After negotiations with Chinese officials failed to produce a satisfactory trade deal last Sunday, Trump jacked up tariffs on Chinese goods to 25 percent, vowing to slap similar duties on thousands more products and triggering China to respond in kind.
Also on rt.com
China fighting 'PEOPLE'S WAR' against US – state media on tariff hikes
The US government is already barred from using telecom equipment from Huawei and ZTE, another Chinese company, per an August executive order, and the Federal Communications Commission voted to exclude China Mobile Ltd from US networks last week. While the big four US wireless carriers – Verizon, AT&T, T-Mobile, and Sprint – have agreed not to use Huawei in their 5G networks, smaller carriers have made no such agreements, and many use equipment from Huawei and ZTE for cost reasons.
Also on rt.com
'America, face the competition!' Huawei's top security officer blasts US push against telecom giant
The Trump administration has stepped up its anti-Huawei rhetoric internationally, warning the UK that they risk being kicked out of the Five Eyes intelligence-sharing network if they allow the Chinese firm to build any part of their 5G network earlier this month after leveling similar threats at Germany and other European allies. While the US insists Huawei products are backdoored, used to spy on behalf of the Chinese government, no proof of this spying has yet been produced - indeed, there is more proof that US uses its own companies' tech to spy, as Huawei executives have repeatedly pointed out.
Think your friends would be interested? Share this story!
You can share this story on social media: