US deploys aircraft carrier & bombers to Middle East in 'message' to Iran – Bolton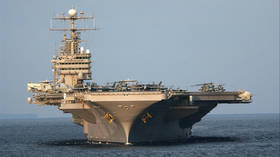 The US is deploying a carrier strike group and a bomber task force to the Middle East amid mounting animosity and a heated war of words between Washington and Tehran.
The USS 'Abraham Lincoln' Carrier Strike Group and a bomber task force will soon arrive in "the US Central Command region to send a clear and unmistakable message to the Iranian regime," according to a statement by US National Security Advisor John Bolton.
Bolton, who once notoriously called for Iran's nuclear program to be stopped by bombing the country, asserted this time that the US "is not seeking war with the Iranian regime." However, it is "fully prepared to respond to any attack" by Tehran's "proxy" – the Islamic Revolutionary Guard Corps (IRGC) – or regular Iranian forces.
The hawkish national security adviser warned that any attack on the interests of the US or its allies "will be met with unrelenting force." It is unclear how realistic the threat is of such an attack. A US official earlier told Reuters that the Pentagon was not expecting any imminent assault on US forces.
Tehran has recently signaled unwillingness to escalate tensions. "We have been very clear that we have no interest in escalation," Foreign Minister Mohammad Javad Zarif told Al Jazeera. He added, however, that Iran "won't permit the US to threaten the Persian Gulf."
The American deployment comes on the heels of fresh sanctions imposed against Iran's nuclear power plant at Bushehr, and a ban on exports of heavy water and any further uranium enrichment. These restrictions came in addition to other forms of pressure that the Trump administration is piling on Iran.
Also on rt.com
'Bullying' US to blame if conflict breaks out with American troops – Iran's Deputy FM
Back in April, the administration said it would not renew exemptions granted last year to buyers of Iranian oil, in line with its plan to reduce the Islamic Republic's crude exports to zero.
Also last month, Washington formally designated the IRGC as a terrorist organization. Tehran responded by putting US Central Command on its terrorist list. Iran has responded to every US action with statements full of resilience, blasting Washington's "bullying."
The country's deputy foreign minister said on Wednesday that if fighting breaks out between Iran's Revolutionary Guards and US CENTCOM forces in the Persian Gulf, it is Washington who would be held responsible.
Like this story? Share it with a friend!
You can share this story on social media: