Bolton mocks Maduro's bunker-bound 'cowardice' on day he addresses crowds in Caracas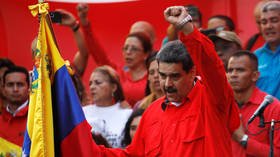 US national security adviser John Bolton has condemned Venezuelan President Nicolas Maduro for "hiding in a military bunker" even as the leader was actually addressing crowds of supporters in the street.
Maduro "hides in a military bunker somewhere, surrounded by his Cuban overseers and corrupt cronies," Bolton sneered in a tweet, denouncing the Venezuelan leader as a "cowardly autocrat" while praising opposition frontman Juan Guaido as a "brave leader."
Interim President Guaido bravely leads the Venezuelan people through the streets, while Maduro hides in a military bunker somewhere, surrounded by his Cuban overseers and corrupt cronies. Guaido shows the courage of a leader; Maduro is nothing but a cowardly autocrat. pic.twitter.com/1PCp5dvL4X

— John Bolton (@AmbJohnBolton) May 1, 2019
Unfortunately for Bolton, Twitter was paying attention, and someone pointed him to a live feed of Maduro speaking in front of a huge crowd of supporters.
Guaido "bravely lead[ing] the Venezuelan people through the streets" from atop a vehicle looked a bit less impressive in comparison, though it's understandable why the opposition politician saw fit to put a car's distance between himself and "the Venezuelan people" after what happened last time he tried to mingle with the commoners he claims support him.
Also on rt.com
Hail to the 'interim president'? Juan Guaido's motorcade ATTACKED by angry mob (VIDEO)
But the Trump administration has never let truth get in the way of a good Venezuela story. Pompeo, too, has mocked Maduro for "hiding" in the aftermath of Guaido's failed coup attempt on Tuesday, joking, "'Nerves of Steel' hasn't shown himself very much today!" to a Fox News host after Maduro boasted of his continued support from the military.
The jab was a sudden about-face from Pompeo's insistence just minutes earlier in the same interview that Maduro had been on the brink of fleeing to Cuba and was only held back by Russian interference. The Fox host, to his credit, pointed to the "nerves of steel" line as something a guy with one foot in Havana was unlikely to say.
Maduro himself had marveled at the "lack of seriousness" of Pompeo's "airplane on the tarmac" narrative when he first trotted out the story earlier on Tuesday. By the time Pompeo appeared on Fox, he had added a wrinkle to the story, darkly hinting that the US would no longer guarantee Maduro's safety even if he were to leave Venezuela. Previously, the Trump team had hyped up promises of amnesty for all Venezuelan military who surrender.
Also on rt.com
US military action in Venezuela 'possible if that's what's required' – Pompeo
The Trump administration seem to be hammering the anti-Maduro propaganda extra-hard after Guaido's attempt to spark an uprising among the Venezuelan military ranks fell flat on Tuesday. Despite Pompeo's insistence that Guaido is the "duly-elected leader" of Venezuela, he has never been elected by anyone, instead declaring himself president in January to the bemusement of most of the country's population. Bolton, Pompeo, and the rest of the regime-change cheerleaders in Washington have accordingly stepped up threats of military intervention even while insisting it is an undesirable last resort.
Think your friends would be interested? Share this story!
You can share this story on social media: