UN adds Pakistan-based militant leader Azhar to global terrorist list after China drops objection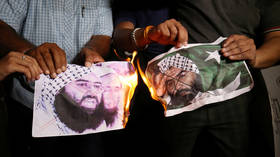 The UN Security Council sanctions committee has put the leader of Jaish-e-Mohammed (JeM), the group behind the February Kashmir bomb attack, on its terrorist list in what India called a huge diplomatic victory.
The decision means that the founder and the leader of the Pakistan-based militant group, Masood Azhar, would face an assets freeze, a travel ban and an arms embargo from now on. The move was taken after China, which earlier put the issue on hold to review Azhar's case in detail, said it had no objections to his designation as a terrorist.
The news was confirmed by India's envoy to the UN, Syed Akbaruddin, who thanked all those who backed the decision for their support. The Indian media also immediately hailed the development as a "huge victory" for New Delhi, which sought to add Azhar to the terrorist list since 2016.
Big,small, all join together.Masood Azhar designated as a terrorist in @UN Sanctions listGrateful to all for their support. 🙏🏽#Zerotolerance4Terrorism

— Syed Akbaruddin (@AkbaruddinIndia) 1 мая 2019 г.
The latest push came this February after JeM claimed responsibility for a suicide car bomb attack, which claimed the lives of 44 Indian paramilitary police officers in the disputed Kashmir. However, the proposal tabled jointly by the US, the UK and France was again blocked by China in March.
It was the fourth time China, a close ally of Pakistan, blocked this proposal in the UN Security Council. Beijing's move sparked a wave of outrage in India, leading to widespread calls for a boycott of Chinese products on Indian social media.
Also on rt.com
#BoycottChineseProducts trends on Indian social media after latest block by China
Pakistan, meanwhile, criticized the decision by saying that Azhar's designation as a terrorist was in fact aimed at "undermining legitimate freedom of movement in [Kashmir]," which Islamabad sees as occupied by India.
"India is presenting it as a victory, and as a confirmation of its narrative but these claims are false," Pakistan's Foreign Office spokesperson Mohammad Faisal said. The February terrorist attack prompted New Delhi to carry out an air raid into Pakistani territory targeting JeM camps, which led to a dramatic flare-up of tensions between the two nations.
Earlier, India demanded Pakistan hand over Azhar to New Delhi, adding that any talks with Islamabad on combating terrorism would be useless otherwise. In March, Pakistan detained 40 people belonging to various terrorist groups, including Azhar's brother and son.
On Wednesday, Faisal once again said that Pakistan is determined to fight "terrorism in all its forms" and there is no place for any designated terrorist groups on its soil.
Think your friends would be interested? Share this story!
You can share this story on social media: