Who is General Barr? Senators seem to not know how to address an attorney general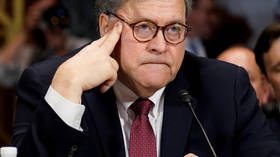 Lawmakers had plenty of questions for US Attorney General William Barr about his assessment of Robert Mueller's report on the 'Russia collusion' probe, but some seemed at a loss as to how to address him.
Thus, he was often called "General Barr" during his hearing before the Senate Judiciary Committee on Wednesday to answer questions about the special counsel's Russiagate investigation and about his release of a redacted version of Mueller's report.
Also on rt.com
'Mind-bendingly bizarre': Barr hearing shows 'Russiagate' still has hold on US politics
Who is general Barr? And what army does the attorney command? One might ask. If he is not a commanding officer, which he is not, then what is the proper way to address an individual of such stature? A simple Google search would tell you that the correct way of calling a person holding the office is simply "Mister" or just as "Attorney General."
RT America's news host Rick Sanchez offers his take.
Think your friends would be interested? Share this story!
You can share this story on social media: